Sweeps
By Regan Cellura on November 10, 2008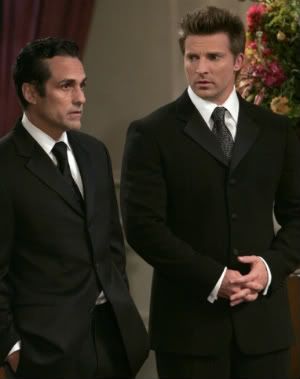 Here's the Scoop! 11.10.08

Sorry for the delays... I have been battling the flu and when that battle ended I had to take on the pile of work on my desk. I was hoping to get some stuff up for you guys this weekend but I work two jobs (fun right?) and I just couldn't seem to find the time. But I'm feeling better, still overloaded with work and tons of scoop to go through, so bear with me, it MAY be a bumpy ride.
Sonny... he gets arrested for Karpov's murder and guess who his alibi is? Carly. She'll claim that she and Sonny were hitting the sheets at the time of Karpov's death. Jax is not happy to hear this and he goes straight to Kate with the news.
Sasha...we've talked about how she'll be on the revenge path now that her boss is dead. There SHOULD be another "boss" giving orders to Sasha and her crew. It looks like they start with Sonny's dad as Mike is beaten and Kelly's in trashed.
Let it begin... "Elizabeth has doubts about her and Jason" and the ABC Insider asks who General Hospital Fans want reunited. Jason and Sam made the cut. The RUMORS have been gaining steam and some have suspected it's all a big plan on ABC's part to get the fans riled up. I'm not convinced, ABC doesn't tend to be that smart. READ MORE
By Regan Cellura on November 04, 2008
Here's the Scoop! 11.04.08

GO VOTE! It doesn't matter who you're voting for, just VOTE!
There was a lot of SCOOP out and about yesterday so today looks to be a little light on the SCOOP load.
Luke saves Scotty! It looks like he pulls his arch enemy out of the car and then Luke and Laura go over the cliff. The make it out as Laura pulls Luke to safety just in time to smack him in the face for lying to her. Laura tells Luke to pick... her or Tracy. Don't forget... Luke's ladies have a talk.
JoLu... fans? I know we have some Johnny fans, do we have any JoLu fans? Lulu is on the adventure and Johnny SHOULD find himself in some sort of mob trouble. As a couple, they'll have their share of ups and downs but it still looks like they are the plan. RUMBLINGS have the pair moving into more of an "adult relationship." READ MORE
By Regan Cellura on November 03, 2008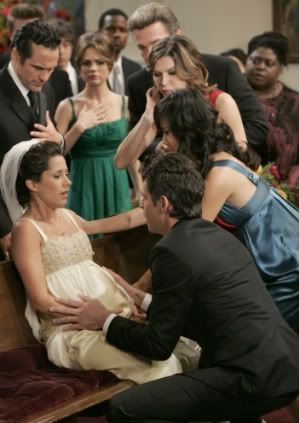 Here's the Scoop! 11.03.08

Sweeps without the Stunt? It looks like Guza's big Sweeps Stunt has been pushed back until January. So is it Sweeps if there is no Sweeps Stunt? Not at General Hospital! GH is known for their Sweeps events and this was supposed to be Guza's last ditch effort according to RUMORS. Does pushing the stunt back to January buy him more time? What about the "twist" at the end of Sweeps? Is it still coming or is that all part of what's been delayed until January?
So much GOSSIP out there, but is it FanFic or the real deal? Some of it's really good so my guess is that the good stuff is FanFic. Get your salt licks out, trust me, you need them.
Scrubs baby... she arrives today via C-Section. Robin slips into a coma after too much blood loss. It looks like her name will be Emma Grace. Boooooo! They should at least make her middle name Georgie! READ MORE
By Regan Cellura on October 31, 2008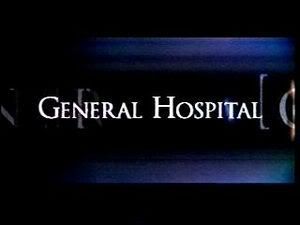 What in
Bob Guza
hell is going on at
General Hospital
? First he says the Sweeps Stunt is something never before seen in daytime and now
Nelson is reporting
that Guza has pushed his big "stunt" back to January of 2009. Is it a Sweeps Stunt if it doesn't happen during Sweeps or is it just a stunt no one will care about?
"You've never seen this [storyline done] before on daytime. It's way cool, super innovative, and will surely get [your] attention."

—GH head writer Bob Guza on moving his previously reported big November sweeps-stunt to January 2009 in Soaps In Depth.
Translation: Let me see if I get fired first before I give them my "best" stuff, which I blatently stole from either a movie or a prime-time series.
By Regan Cellura on October 31, 2008

It's a twist on the weekly SOAPnet Sneak Peek! With Sweeps upon us, SOAPnet is giving us a November Peek!
On General Hospital:
THE event of November is the fact that Luke and Laura are together again! Yes, face-to-face, doing their Luke and Laura thing. Which means getting into life and death scrapes (this time it's a car going off a cliff) amidst that undeniable chemistry.
All this PLUS a marriage, a murder, a big exit, a career change, a Thanksgiving that shows you a very different Port Charles and Spinelli's on a mission, for, as he'll say, "Maximista will be avenged!" Now what could that mean?
On All My Children:
David's newly arrived back in town and is already plotting revenge against half of Pine Valley. Fate (or the writers, depends on your POV) make that easier when he joins the hospital staff because (irony alert!) the head of cardiology dies of a heart attack! JR is not buying anything David says, but what about Krystal? And how does Amanda fit into all of this?
Erica takes over Fusion in Kendall's absence. Really, do we need to say anything else? I mean, just think about the scenes that are coming. READ MORE
By Regan Cellura on October 31, 2008
Here's the Scoop! 10.31.08
HAPPY HALLOWEEN... I hope you all get plenty of Tricks and Treats today. How about some SCOOPS to kick off Halloween? I wish I could say we had tons for you but once again, not much is out there so it'll be a Q&A day! Why the lack of SPOILERS? Well, Sweeps are upon us and it seems they've been able to keep some of the SCOOP under wraps. Remember, there has been tons of SPECULATION that Sweeps has yet to be SPOILED correctly.
Robin's rushed to GH in labor. I am still hearing about Grandma getting them there in a speedy way. A C-Section is performed and as we've been telling you for weeks, a crisis is coming for Robin and baby. It looks grim for Robin on Monday but it LOOKS like mom will be fine by Friday. About the delivery... they'll learn the baby's cord is wrapped around her neck. The baby's name... Emma Grace, named after no one. READ MORE