30 Rock
By Luke Kerr on November 26, 2008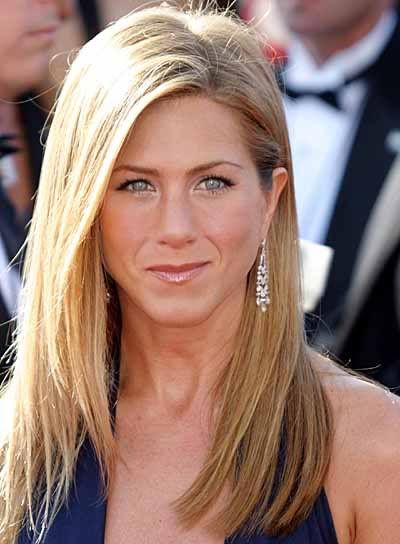 Jennifer Aniston
is still America's sweatheart according to AOL's Popeater.com Aniston, whose hit show
Friends
was watched by a generation of Americans each Thanksgiving, beat out
30 Rock
star
Tina Fey
and daytime talk show host
Ellen Degeneres
for the No. 1 spot with 26 percent of the vote.
Ten most popular Thanksgiving guests:
1. Jennifer Aniston
2. Tina Fey
3. Ellen Degeneres & Portia De Rossi
4. Patrick Dempsey
5. Suri Cruise
6. Tyra Banks
7. Jonas Brothers
8. Keira Knightley
9. Beyonce
10. Rob Pattinson
Check out some classic Friends Thanksgiving clips after the jump. READ MORE
By J Bernard Jones on November 23, 2008
Product placement on TV shows are usually tricky, awkward and terribly cheesy affairs. For example, there was the insanely stupid episode of
Smallville
where "krpytonite charged" Stride gum (I am serious, folks) turned Pete Ross into a po' Black version of Plastic Man. I will never in my lifetime buy a pack or chew a stick of Stride because of that hot, sticky mess. What about the current incarnation of
Knight Rider
, which is nothing more than a 60 minute commercial for Ford Motor Company? No wonder the automaker is on the verge of collapse. Who can forget the Pringles induced nightmares on
Guiding Light
or the pallet of Bounty paper towels upon which Dusty & Lucy slept on while on the run on
As the World Turns
. Oy vey!
Every once in a while, shows get it right like the sublimely funny, brilliant product placements on 30 Rock such as these for Bee Movie, Verizon and Snapple. Add to the list of how these placements can be done right the aforementioned ATWT's placement/PSA for veggie juicer V8. Here is how it went down: READ MORE
By Jamey Giddens on October 16, 2008
Okay, all this talk about
Lisa Hartman-Black
(Ciji/Cathy,
Knots Landing)
made me run out and find a clip for all the young uns—and Luke—who may have never experienced the best damn primetime soap opera ever!!! For 14 seasons CBS fans followed the lives of
Dallas
's JR Ewing's "good for nothing" little brother Gary (
Ted Shackelford)
, his hayseed wife Valene (
Joan Van Ark
) and their friends, neighbors and enemies on the famed So Cal Cul-de-Sac.
A lot of kids I grew up with wished they had lived with the Huxtables on The Cosby Show, screw that. I wanted to be peeping through windows on Seaview Circle, especially if Abby Fairgate Ewing (Donna Mills) was up to no good! READ MORE
By Jamey Giddens on October 15, 2008
Don't look for
Days of Our Lives
John Aniston
(Victor) to be walking his daughter
Jennifer Aniston
down the aisle to jump the broom with
Shemar Moore
anytime soon. Despite Moore's admission on
Ellen
that he was feeling the
Friends
cutie, gossip blogs across the web are speculating that Aniston is back with singer
John Mayer
. Hmm, maybe the Y&R and
Criminal Minds
stud should get
Tina Fey
to hook him up with a guest spot on
30 Rock
opposite Aniston? He could play
Tracy Morgan
's brother! Call me Shemar, I've always got a Plan B!
By Luke Kerr on October 14, 2008
Tina Fey
has been trying to get
Oprah
on
30 Rock
for about as long as
30 Rock
has been airing. Well, on November 6th, Tina achieves her obssesion. Oprah will appear on the season premiere of the Emmy-winning show.
30 Rock
is also pulling in some big former NBC names including
Jennifer Aniston
and
Megan Mullally
.
By Luke Kerr on July 17, 2008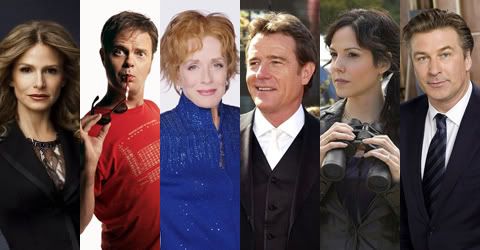 Six soap alum have received Primetime Emmy nomations in the major acting categories at this year's 60th Annual Emmy Awards. From left to right.
Kyra Sedgwick, the star of TNT's The Closer and who once appeared on Another World was nominated in the Outstanding Lead Actress category.
Rainn Wilson, star of NBC's The Office and who once appeared on One Life to Live as Casey Keegan was nominated in the Outstanding Supporting Actor in a Comedy Series category.
Holland Taylor, who stars on CBS's Two and a Half Men as Charlie Sheen's mother once starred on All My Children as Jill Ollinger. Taylor received a nomination in the Outstanding Supporting Actress in Comedy Series category.
Bryan Cranston, the star of HBO's In Treatment once appeared on One Life to Live as Dean Stella. Cranston received an Outstanding Lead Actor in a Drama Series nomination.
Mary-Lousie Parker, the star of Showtime's Weeds and who once appeared on Ryan's Hope received an Oustanding Lead Actress in a Comedy Series nomination.
Alec Baldwin, the star of NBC's 30 Rock and once appeared on The Doctors received an Oustanding Actor in a Comedy Series nomination.
Congrats to them all!