90210
By Regan Cellura on October 08, 2008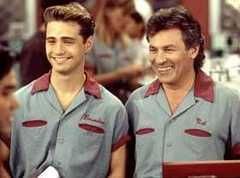 Brandon's back! But you won't see him onscreen.
Jason Priestley
(Brandon Walsh) has agreed to return to his roots as a director. According to
Michael Ausiello
, Brandon's not the only Walsh making a return to the zip code that made them famous.
Shannen Doherty
is said to be in talks to reprise her role as Brenda Walsh. Doherty has already completed the episodes she originally committed to.
Look for Priestley's name is the credits for the series' 18th episode.

By Jamey Giddens on October 07, 2008
SPOILER ALERT
: The CW's
90210
finally earned its spot as Appointment TV for this soap fan tonight as it girl Naomi (
AnnaLynne McCord
) was busted for drug possession and several couples heated up. Sure its been fun catching up with old friends like Brenda (
Shannen Doherty
) and Kelly (
Jennie Garth
), but until tonight's episode I was wondering if the 2.0 teens would actually prove intereresting enough for me to invest in for a full season, not to mention 10 as I did with the original Peach Pit crew.
Not surprisingly it isn't the actors The CW heavily-hyped, Shenae Grimes (Annie) or McCord, formerly of Nip/Tuck, as Naomi who are proving to be the teen soap's break outs. Those distinctions go to Tristan Wilds as Annie's adopted brother Dixon and Jessica Stroup as the brilliant Silver. How awesome is it that Kelly and David (Brian Austin Green)'s kid sister from the parent show is fast proving to be the show's anchor, a lesson both daytime and primetime could learn from–honor your history. The CW was banking on Grimes and McCord as their Gen Next front women when all they had to do was pick up a script from the original. READ MORE
By Luke Kerr on October 03, 2008
Ok, now this is hilarious.
Jessica Alba
,
Heroes'
Hayden Panettiere
and
90210's
Tristan Wilds
are encouraging people young people to vote in this, did I say this already, hilarious infommercial/PSA for the The Muzzler.
By Regan Cellura on September 30, 2008
Take a look at a Sneak Peek of tonight's new 90210. Dylan rings up Brenda!
By Luke Kerr on September 25, 2008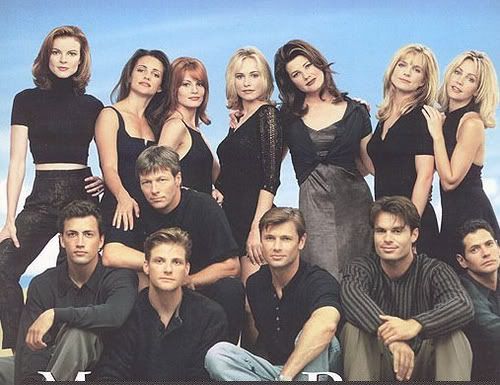 What could be better than a 90210 remake? How about a Melrose Place remake? Lisa Rinna revealed to Mark Malkin at E! Online that there is a possibility of Melrose returning.
"I've heard a rumor of them bringing back the show like they did 90210," Rinna said at TV Guide's post-Emmy party. "I heard that it's somewhere at the CW."

No surprise, but Ms. Rinna would jump at the chance to reprise her role as Taylor McBride. "I would do it in a heartbeat," she said.

Melrose Place ran from 1992 to 1999. "Let's bring it on," Rinna squealed. "Melrose, 10 years later!"
If Melrose were to return, who would you like see return of the original show's cast? Doug Savant and Marcia Cross are on Desperate Housewives. Kristin Davis could be filming a Sex and the City sequel. Jack Wagner is on The Bold and the Beautiful. Rob Estes is on 90210. Kelly Rutherford is on Gossip Girls. Josie Bissett is on The Secret Life of the American Teenager. Courtney Thorne-Smith is stuck on According to Jim, which returns in 2009.
Of the Melrose cast, it would appear that Heather Locklear, Lisa Rinna, Grant Show and Thomas Calabro are the few major Melrose alum who aren't already cast members on hit or buzzworthy TV shows or movies.
By Jamey Giddens on September 23, 2008

Whether she's breaking the hearts of plucky Web TV heroines on You Tube's
Imaginary Bitches
or causing even
more
angst for teen queen Naomi (AnnaLynne McCord) on the post-Kurt Cobain version of
90210
, Chandra West is making waves on our favorite soaps. I recently talked with West for Daytime Confidential. The actress shares what it's like appearing on two of the most buzzed about shows this season. We find out if her aborted same-sex match up with Eden Riegel will be revisited on the next season of IB and talk about what things have been like on the set of
90210
. Have Jennie Garth and Shannen Doherty really been behaving themselves
?
And you'll never guess which daytime soap opera West just can't get enough of
.
Daytime Confidential: You're quite the busy actress these days, appearing on Imaginary Bitches and on 90210—the most talked about network show of the new season—how does it feel to be a part of projects that are generating so much buzz?
Chandra West: It's good, we'll definitely see where it all goes. It's been fun to be a part of both shows. READ MORE