90210
By Jillian Bowe on March 16, 2012
Looks like Old Smilin' Jack's (Peter Bergman) youngest cub will return to Genoa City a man! According to The Hollywood Reporter, former 90210 star Blake Hood has been cast as a SORAS'd Kyle Abbott on The Young and The Restless. As previously reported, earlier this month Y&R placed a casting call for a male in his early 20's to portray a college grad, who returns home to Genoa City, with an axe to grind. Hood's first airdate is April 27.
Photo Credit: IMDB
By Jamey Giddens on October 07, 2011
It takes a big pair of orches to walk into ruthless, old school, Greek patriarch Victor Kiriakis' (John Aniston) living room and announce you're gay on NBC Daytime's Days of Our Lives. As Victor's sensitive-but-secure great nephew Sonny, Freddie Smith did just that, and fans of the soap cheered, as DAYS finally introduced a principle gay character for the first time in its over 45-year history.

This wasn't Smith's first time playing a same-sex character on a soap, however. The talented young actor won raves as Marco, the soccer stud who romanced Teddy (Trevor Donovan) on The CW's 90210 last season. I recently caught up with Smith, who tonight is appearing in ACME's Hollywood Dream Role. We chatted about what it's been like playing two high profile gay teen characters, back-to-back on suds. Was the hunky actor ever worried about being typecast in gay roles? His answer just may inspire you.

We also dished about the phenomenal reboot DAYS has undergone, as well as the soap's decision to take a slow and steady approach to exploring Sonny's love life. Is romance on the horizon for Sonny and one of Salem's other young adult guys, or even perhaps a new character? Keep reading to find out what Smith can share.
Daytime Confidential: I'm loving, loving, LOVING, the Days of Our Lives reboot! How exciting has it been to be on set with the show in such a transformative place these past few weeks and months?
Freddie Smith: I'm loving the reboot as well. It was a lot of fun to see the sets being changed and having the former cast members return to the show. READ MORE
By Jillian Bowe on August 21, 2010

90210's Travis Van Winkle will host the ACME Saturday Night tonight with musical guest, The Sleeping Masses featuring former Days of Our Lives alum Patrick Muldoon (Ex-Austin #1). The Friday the 13th star's event starts at 7 p.m. PST at the ACME Comedy Theatre located at 135 N. La Brea Avenue in Los Angeles. Tickets are available online at acmecomedy.com. Fans not in the Los Angeles area can watch the show streamed live at ACME's website.
Photo provided by ACME Comedy
By Jillian Bowe on October 30, 2009
Greg Vaughan recently revealed a bit of information regarding his stint on 90210. Fans of the original show will not see Vaughan returning as fireman Cliff. Vaughan tweeted,

Second, 90210!! Great seeing old faces! Jennie Garth laughed too, but I will not be bringing you Cliff Yeagar/fireman! Good for a few laughs. Until I get settled in & more familiar with the cast, I can't say too much, but I really like were this story is going!
If still miffed at General Hospital don't be, because he's not. Says Vaughan, READ MORE
By Johnathon on October 19, 2009
So we all know the story of a modern soap opera fan right? For those of you who don't, here are the bullet points.
The soap opera genre is dying. It's doomed. The sky is falling, blah, blah, blah, blah. But in this day and age of the internet and cable television, is there any reason for this industry to die? Shouldn't this be the time for the industry to innovate and for this genre to kick into overdrive? READ MORE
By Jamey Giddens on June 02, 2009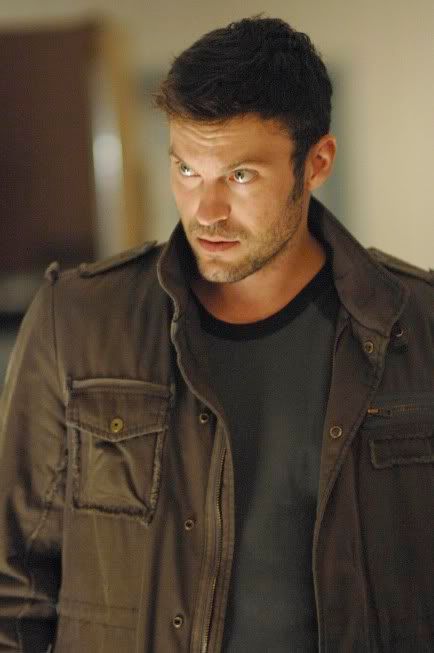 Bad news David (
Brian Austin Green
) and Donna (
Tori Spelling
) fans. It looks like you could end up waiting for your fave Pitted Peaches to reunite on
90210
as long as Silver waited to pop Donna's cherry on the original teen soap.
EW.com
's
Michael Ausiello
is reporting
Green i
s thisclose to joining the cast of another CW series,
One Tree Hill
.
Fresh from the high profile flop that was Terminator: The Sarah Connor Chronicles, Green could possibly play a "Jerry Maguire-esque sports agent" named Clayton who will rep OTH's true leading man Nathan (James Lafferty). (Sorry, I always preferred Nate's storylines to Lucas's wussy Great Gatsby Goes to Basketball Camp sagas.) Green's addition to the cast would be one of several to help fill the void of Lucas (Chad Michael Murray) and Peyton (Hilarie Burton), whose starcrossed characters tied the knot in the sixth season finale and vacated the series after real life contract squabbles reportedly didn't end amicably. READ MORE