Another World
By Jamey Giddens on May 05, 2008
Veteran soap scribe Tom Casiello remembered daytime legend Beverlee McKinsey (ex-iris, Another World/Texas; ex-Alexandra, Guiding Light; ex-Myrna, General Hospital) on his popular My Space blog today. Casiello achieved quite a metaphor by comparing McKinsey's "quiet dignity" and pride in her work with a daytime on yesteryear. It's a must read for fans of the late Ms. McKinsey's work and of the golden age of soaps. Click here for more.
By Jamey Giddens on May 04, 2008
Daytime mourns the loss of one of its most legendary names, Beverlee McKinsey, who died May 2, 2008 from complications of a kidney transplant. She was 72. McKinsey shot to fame as the original Iris Cory Carrington Wheeler on Another World and later the short-lived AW spinoff Texas. After her wildly successful decade's long run as Iris (1970-79 on AW, 1980-81 on Texas) McKinsey joined another Procter and Gamble soap, Guiding Light and created a role that would compete with Iris as the performance of her career, Alexandra Spaulding. McKinsey starred on that soap from 1984-1992. She briefly returned to the soap world in 1994 when she appeared as Myrna Slaughter on General Hospital.
"For my money, Beverlee McKinsey is the greatest actress ever to grace daytime drama." -TV Guide's Michael Logan.
By Jamey Giddens on May 04, 2008
My all-time favorite soap actress EVER, Anne Heche (ex-Vicky and Marley, Another World) finds herself without a job as TV Guide's Michael Ausiello is reporting that ABC has canceled Men In Trees. Luckily for fans of the cult fave, series creator Jenny Bicks (Sex and the City) saw the writing on the wall and wrote an alternate series finale to substitute for the season finale just in case. I admit that despite my Heche love, I could never get on board with Trees, but I know the show has a really loyal fan base, including our very own Luke, so this bites for them. Here's hoping ABC moves the brilliant Heche over to Dirty Sexy Money or Brothers and Sisters! Men In Trees will begin its finale run of new episodes on May 28.
By Luke Kerr on May 04, 2008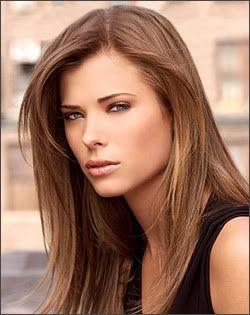 It's always great to see former soap stars pop up in primetime and this weekend was a great weekend for former soap stars guesting in new episodes of primetime TV.
CBS's Moonlight took the cake this past weekend with former soap stars. In addition to former Days of Our Lives star Eric Winter, who has joined the cast, Moonlight also featured former All My Children star William Christian (ex-Derek) and Peyton List ( ex-Lucy Montgomery, As the World Turns).
Since leaving As the World Turns List has been racking up quite the list of primetime guest roles. She's appeared on Smallville, One Tree Hill, Without A Trace, CSI: Miami, CSI: New York, and Daybreak. Not to mention starring in ABC's on the bubble Big Shots.
Following up Moonlight on Friday was CBS's Ghost Whisperer where former General Hospital star Nikki Cox (ex-Gina Williams) popped up as a former love interest for professor Rick Payne, portrayed by Jay Moyr. READ MORE
By Jamey Giddens on May 02, 2008
First Britney on How I Met Your Mother and now this. TV Guide's Michael Ausiello is confirming that Another World alum Lindsay Lohan is in advanced talks to appear on the season finale of Ugly Betty and, get this, she could return next season for a multi-episode arc!
Why is it that the best shows on television have become the place for train wrecked celebutantes to try to rebuild their careers? I realize the Britney sighting gave Mother its best ratings to date among its core demo, but that had nothing to do with her acting ability. People simply tuned in to see if she was actually sane and seemly enough to deliver her lines. It's like bad porn or a car accident, you can't help but watch.
Lohan, once upon a time, was one of the most talented actresses of her generation. I loved her opposite Tom Eplin (Jake) as little Ally Fowler on Another World and followed her career all the way from the sucessful Parent Trap and Freaky Friday updates to the teen classic Mean Girls. Then something happened. She stopped acting and started self destructing. Oh well, everyone deserves a second chance, I just don't want to see my fave primetime shows become a rehabilitation center for troubled post teen stars.
By Jamey Giddens on April 21, 2008
Poor Matt Ashford (ex-Jack, Days of Our Lives). First his leading lady Missy Reeves (ex-Jennifer) decided to pack up her real life family with former Young and the Restless heartthrob Scott Reeves (ex-Ryan) and move to Nashville. Then Jack's daughter and last immediate family link in Salem, Abby, decided to skip town when her portrayer Ashley Benson opted to leave for greener pastures and highly-debated fashion choices. I liked the dress by the way!
I say it's time the Family Deveraux returned home to Salem and I believe I've found two perfect blonde soap dreams to fill the popular roles of Jennifer and Abby Deveraux in multi-soap vet Jensen Buchanan and former Guiding Light ingenue Stephanie Gatschet (ex-Tammy).


Buchanan, most popular for her roles as Sarah Buchanan on One Life to Live and Vicky and Marley Hudson on Another World, would fit in great in Salem as mega heroine Jennifer Horton Deveraux. READ MORE