Blush: The Search for the Next Great Make-Up Artist.
By Jamey Giddens on December 20, 2008
General Hospital
and
Lipstick Jungle
star
Vanessa Marcil
spoke out to
TV Guide.com
's
Matt Mitovich
about the sudden passing of
Todd Homme
, one of the contestants on her Lifetime reality competition
Blush: The Search for the Next Great Make-up Artist.
Homme, who was 23,
died Dec. 13
in his home of yet-to-be-determined causes, Mitovich reports.
Marcil shared she was "totally floored" by Homme's death.
The interesting thing is that I, for some reason, had this huge connection with Todd — which of course now is really sad. But something about him was just really kind and beautiful and open."
Our thoughts are with Marcil, as well as Homme's family and friends.
By Jamey Giddens on October 03, 2008
How's this for a soapy twist?
Vanessa Marcil
's
upcoming Lifetime reality show
Blush: The Search for the Next Great Makeup Artist
was pitched by none other than Procter and Gamble's media arm MediaVest to promote P&G's Max Factor brand, according to
Ad Age
. The article goes on to talk about how aggressively P&G is moving into "branded content". Ummmm, haven't they had oh, say 70 years of success with that already with its soap operas? Remember them?
Now before we go all conspiracy theory with thoughts of this being an elaborate smokescreen to get ABC Daytime's Most Anticipated Promotional Campaign—"The one star you thought would never be desperate enough to come back!"—in at As The World Turns as the next Chris Hughes (Hey, they've tried everyone else in the part.), it is fairly common place for P&G to sell their goods to various other networks and cable channels besides CBS. READ MORE
By Regan Cellura on October 01, 2008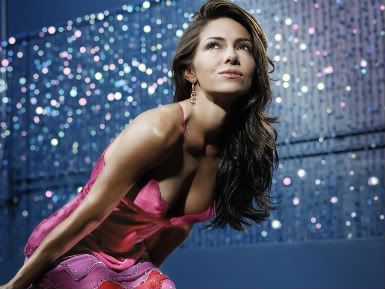 She played a model on TV and now
Vanessa Marcil
(Brenda,
General Hospital
) will host the new Lifetime series
Blush: The Search for the Next Great Make-Up Artist
. According to
We Love Soaps
, the Emmy winner's latest project kicks off on Tuesday, November 11, 2008.
In each episode of BLUSH: THE SEARCH FOR THE NEXT GREAT MAKE-UP ARTIST, the contestants, all living under one roof in Los Angeles, compete in two different make-up competitions, designed to test the skills and personality traits - including compassion and confidence - necessary for success in the field. Following the second challenge, one contestant will be eliminated.