Cougar Town
By Daytime Confidential on May 19, 2009
On today's ABC episode of Daytime Confidential Luke, Regan and J. Bernard discuss the latest in All My Children, General Hospital and One Life to Live storylines and news, including:
Adam was shot on All My Children. Everyone is a suspect, but did Adam deserve to die? How many guns are floating around Pine Valley? Did the whole thing look like an 80's B movie and was it too much? Babe's twin is running around town. We like the actress, but why did Babe need a twin? Stephanie Gatschet joins All My Children, as the DA's wife. Why didn't they cast her as a member of a core family?
Michael Corinthos III woke up, but did the ABC promo department ruin it for the viewers? Why was it Lulu who was there when Michael woke up? Why couldn't it have been Bobbie, when we've seen more of her in the past week than in the past six months? Carolyn Hennesy's Cougar Town has been picked up by ABC. Congratulations to her.
The Pussycat Dolls shook some booty on One Life to Live and Matthew Buchanan must have been happy. Todd, Tea, Blair and Marty were held hostage. Is One Life to Live trying to keep Roger Howarth out of the flashback scenes? Lola on LSD was fantastic. Why is that actors do their best job when they're being written out?
Help support and improve the Daytime Confidential podcast: Take a few minutes to fill out the two Daytime Confidential listener surveys: Listener Survey A l
Be sure to leave your comments on all the latest goings on in the world of soaps by calling the Daytime Confidential comment line by calling 917-677-9757.
Listen to Daytime Confidential by clicking on the Daytime Confidential Player at the bottom of this post or Download us for FREE via iTunes. Vote for us on Podcast Alley. Add us as a Friend on MySpace and Facebook.

READ MORE
By Luke Kerr on May 19, 2009
Check out this preview of ABC's new
Courteney Cox
comedy
Cougar Town
, which features
Carolyn Hennesy
(Diane,
General Hospital
). Hennesy appears near the end of the clip in a hilarious scene.
By Jamey Giddens on May 16, 2009
I caught up with
General Hospital
funny lady
Carolyn Hennesy
(Diane) to congratulate her on
Cougar Town
, the
Courtney Cox
laffer she has a recurring role in, being
picked up
by ABC for Fall 2009. To say the talented actress and author (
Pandora Gets Lazy
, the latest in her YA series about the mythological heroine, is on sale now!) is excited would be an understatement the likes of saying Diane Miller sorta likes shoes. But don't worry GH fans, Hennesy plans to pull double duty.
"I am beyond excited about this series and, while I don't ever want "Diane Miller" to become a ghost in Port Charles —literallly or figuratively—I see nothing but good times on ABC primetime," says Miller."From the first table read, I was of the opinion that there were very few ways for this project to fail. Even though my character is recurring, I am hoping the powers that be decide that "Barbara" is a weekly must see."

Cougar Town will definitely find a space on my DVR this fall!
By Jamey Giddens on May 16, 2009
The Academy may not have recognized her with a much-deserved Daytime Emmy nomination, but primetime television has.
Cougar Town
, the
Courtney Cox
vehicle that boasts a recurring role for
General Hospital
's resident fresh of breath acting
Carolyn Hennesy
, has been
picked up
as a series by ABC.
By Regan Cellura on March 25, 2009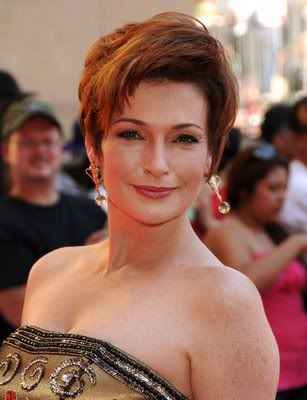 As previously reported,
General Hospital
's
Carolyn Hennesy
has signed on to ABC's pilot
Cougartown
and this week she gave readers at
E!Online
a peek at her character.
Carolyn Hennesy of General Hospital has joined the cast of Courteney Cox and Bill Lawrence's new show Cougartown. Carolyn tells us, "I work in the same real estate office that [Courteney] does. I'm very ladylike and conservative, and then at night it's literally like Jekyll and Hyde. The claws come out, and the men have to go into hiding—the young men are all very afraid."
Cougartown stars Friends alum Courteney Cox-Arquette.
RELATED: Carolyn Hennesy Joins Cougartown!
By Regan Cellura on March 11, 2009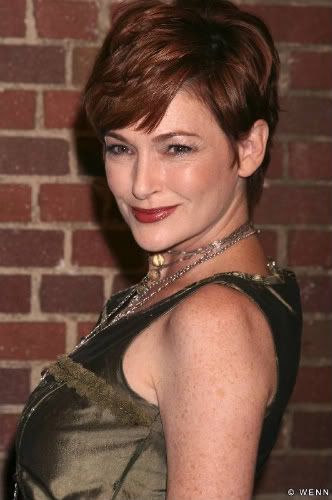 Do you Twitter? I just signed up and what do I find? Some
General Hospital
news! According to
Kristin from EOnline!
,
General
Hospital
's
Carolyn Hennesy
(Diane Miller) has landed herself a pilot on ABC. Hennesy will be opposite
Courteney Cox Arquette
in
Cougartown
.