CSI
By Jamey Giddens on March 18, 2014

The Young and the Restless is once again upping its hunk quotient. Former Jane By Design star Matthew Atkinson has been cast as Austin on the CBS sudser. Look for him to debut April 17 in scenes with Avery (Jessica Collins) and Dylan (Steve Burton). READ MORE
By Daytime Confidential on October 15, 2012
Bob Barker, The Young and the Restless' Kate Linder and Days of Our Lives' James Reynolds were among the celebrities who gathered at a private home in the Hollywood Hills for the Animal Defenders International Gala "Lion Ark Night" on October 13. Barker and CSI's Jorja Fox were honored at the event, which featured a preview of scenes from the upcoming film Lion Ark. See more photos from the gala after the jump! READ MORE
By Luke Kerr on October 03, 2012
Former General Hospital, The Bold and the Beautiful, As The World Turns and Days of Our Lives star Sarah Brown will guest star on CSI's 13th episode this season, according to TVLine. Reportedly, "Brown is guest-starring as Karen, the wife of a Seattle cop who is questioned about her relationship with Tom, whose best friend she dated in high school."
Unforgettable and ex-Nip/Tuck star Dylan Walsh will also guest in the episode, though TVLine does not reveal if Walsh's character and the Seattle serial killer Tom Cooley are the same.
By Daytime Confidential on May 21, 2012
Former The Young and the Restless star Clementine Ford has wedding bells in her future. According to Soaps in Depth, the actress is engaged to Cyrus Wilcox, an actor. The couple attended the 19th Annual Race to Erase MS fundraiser, which was held at the Hyatt Regency Century Plaza in Los Angeles on May 18. Recent Y&R guest Diana DeGarmo, La Toya Jackson and Ford's mother Cybill Shepherd were among the various celebrities who turned out for the event. See more photos from the 19th Annual Race to Erase MS Fundraiser after the jump!.
By Jamey Giddens on April 01, 2010
You can't have a conversation about how to make a web series successful without mentioning the monster hits
Lonelygirl15
and its spinoff serials
KateModern
and
LG15: The Resistance
. Jackson Davis appeared in all three shows as Jonas, even taking center stage in the latter. Now the talented, drop dead gorgeous actor is living the life he could only dream about while growing up in rural Pennsylvania, thanks to his breakout success on the web.

Tonight, however, it's old school TV where you can find Davis, appearing on an episode of the much-watched CBS crime procedural CSI, as a dirty, sexy drug dealer who causes trouble for the crime scene investigators. I caught up with Davis, who revealed why he left the Navy to pursue his dreams of becoming an actor, and how the website
Amazon.com
played a part in that development. We also talked about his upcoming web series Trauma Team, costarring an actress some of you might be familiar with. Her name is Eden Riegel.

Daytime Confidential: Tell me a little bit about the character you're playing on tonight's CSI.

Jackson Davis
: Well, he is a drug dealer and drug maker, and he and his partner are being kept under surveillance by the CSI team. The title of the episode is "The Panty Sniffer."
Photo by Jon McKee READ MORE
By Regan Cellura on March 12, 2009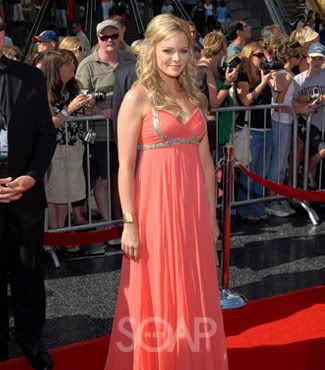 Martha Madison
(ex-Belle,
Days
),
Lindsay Hartley
(Theresa,
Passions
) and
Thad Luckinbill
(J.T.,
Y&R
) have all landed guest stints on CBS procedurals.
We Love Soaps
has the news:
Former PASSIONS star Lindsay Hartley will guest on the CBS hit CSI on Thursday, April 9.

Former DAYS OF OUR LIVES star Martha Madison will play Kate on the April 29 episode of the CBS drama CRIMINAL MINDS.

Meanwhile, on April 22, Y&R's Thad Luckinbill will be playing Connor Dunbrook, the son of Craig T. Nelson's character.