Dancing With The Stars
By Regan Cellura on May 15, 2009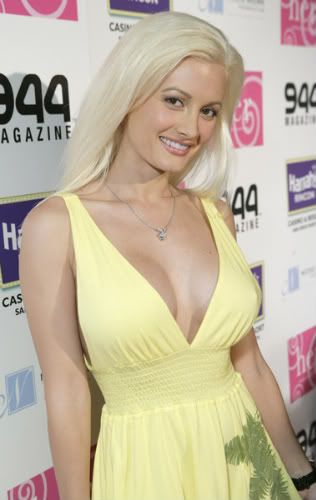 The Girls Next Door
star and Playboy playmate,
Holly Madison
has been tapped as
Kelly Monaco
's PEEPSHOW replacement. According to
People.com
, Madison will take over for Monaco when her run ends in June.
"I feel like this is perfect for me," she said Thursday. "I've always wanted to be in a really classy, sexy burlesque show."

Monaco had signed a three-month contract to star in PEEPSHOW, and Madison's deal will be similar. The Vegas production has quickly become a Dancing With the Stars sorority of sorts. It currently stars Season 1 winner Monaco, 32, as well as Season 5 runner-up Melanie Brown, 33.
By Luke Kerr on November 26, 2008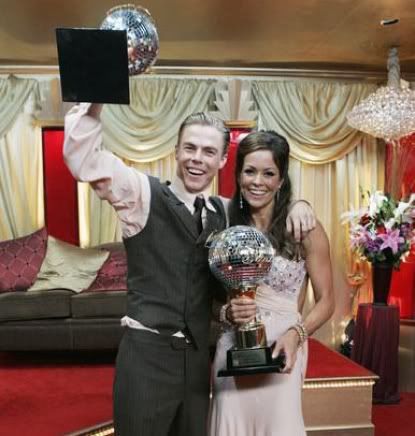 Brooke Burke
hoofed her way to the a seventh season
Dancing With the Stars
win.
Are you happy Burke won?
By Regan Cellura on November 19, 2008
No, she's not doing another
Playboy
spread but
General Hospital
star
Kelly Monaco
(Sam McCall) will be joining Spice Girl
Mel B
(
Dancing With the Stars
) on the Las Vegas stage.
People.com
is reporting that the ladies will star in
PEEPSHOW
at the Planet Hollywood Casino and Resort.
Neither Brown nor Monaco will be topless, but the showgirls surrounding them will be. Brown will be "scantily clad, but in a classy way," she says.

Monaco's character in the show will be "Little Bo Peep," a timid and lonely girl who is guided by Brown's character, "Peep Diva."
Monaco spoke about the Las Vegas show at Super Soap Weekend. According to fan reports, it should not interfer with General Hospital.
By Jamey Giddens on November 06, 2008
To borrow lyrics from
James Ingram
, she did her best, but I guess her best wasn't good enough. Daytime's most famous face
Susan Lucci
, has been
voted off
Dancing With The Stars
. Now, I readily admit I don't watch this program since I think reality television hastens Armageddon (unless of course it features all three of T
he Kardasian Sisters
,
Brody Jenner
or
Speidi
:p) , so I haven't the foggiest idea what happened.
I am assuming Lucci didn't shake what her Mama gave her as well as some of the others like
Lance Bass
or
Cloris Leachman
(Is she still on there?). Oh well, never fret La Lucci, as
All My Children
's baddest bitch Erica Kane you've been a supermodel, a cosmetics tycoon, a showgirl and even rescued your lover from prison via helicopter; who cares if you can't do the Electric Slide? Go soak your foot, toss your silky, chocolate mane and practice asking that jealous Brooke English if she knows who you are in a vanity mirror.
By Luke Kerr on November 05, 2008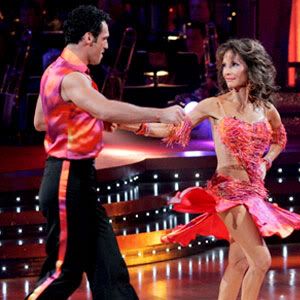 Susan Lucci's
made it this far on
Dancing With the Stars
but it hasn't been the easiest. Lucci's was in the bottom two, the past two weeks.
Could tonight be Lucci the Legend's last or will she survive in a dramatically soapy twist?
By Luke Kerr on November 04, 2008
Susan Lucci
scored a 24 last night on
Dancing With the Stars,
but the reviews haven't been good (see
MSNBC
quote below or check out
EW.com
). Might Wednesday be LaLucci's last night?
"All My Children" daytime diva Susan Lucci raked in 24 points for a paso doble that still suffer from her frequent failures.

Sure, she kept up with the pace more than usual — though eagle-eyed viewers may credit that to the guiding hand of pro partner Tony Dovolani — but she looked anything but confident in the demanding, moody, matador number.