Eli Stone
By J Bernard Jones on April 08, 2009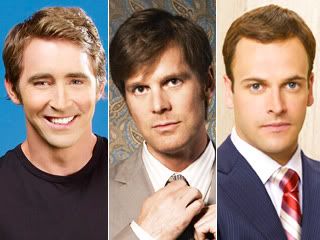 Great news! Michael Ausiello over at EW.com reports that Pushing Daisies, Dirty Sexy Money and Eli Stone will all air their final episodes throughout this summer on ABC. Because these final episodes are scheduled on Saturday nights, set your DVR's! (If you're anything like me, you'll be home to watch them!) Click here for the airdates!
By Jillian Bowe on December 11, 2008
Seems like we're not the only ones pissed at ABC for letting some great shows bite the dust. Today on
The View
, co-host
Whoopi Goldberg
decided to let her employers at ABC know how she feels on their decision to cancel
Eli Stone
and
Dirty Sexy Money
. At the 6:00 minute mark until the end, Ms. Goldberg comes out swinging on ABC and isn't afraid to do so! Love Joy's comments about the entire thing.
Anyone else find it refreshing that a star at major network decided to call out their bosses for some of the stupid mistakes their making regardless of any consequences they may face? Maybe this will become a new trend for television actors to put their executive bosses on full blast. Here's hoping the brass over at ABC decide to halt cancelling DSM and ES!
By Sean on December 10, 2008
This fall season has brought a lot of woes, and tears to some. Some cries of anger from others and in some cases of a collective "Wait..... what?" We now find ourselves at the critical half way point and some shows have left the canvas already, others are on their way out the door. Just about everyone is about to go on hiatus through the holidays, then we have the midseasons coming in.
After the jump we'll take a look at a list of what shows will be falling by the wayside in the not too distant future. READ MORE
By Luke Kerr on November 20, 2008
This a sad, sad day.
Michael Ausiello
is reporting that "
ABC has opted not to order additional episodes of Dirty Sexy Money, Pushing Daisies and Eli Stone for this season.
"
At this point I'm so bummed I'm just going to leave it at that.