Ellen
By Jamey Giddens on August 09, 2010
Broadcasting and Cable
has a promising new article up on their
website
today detailing how local NBC affiliates plan to refocus on the Peacock's daytime lineup, and according to the article, long-running, daytime sudser
Days of Our Lives
appears to be key to that strategy!
The group also will get an assist from its network and syndication marketing arms. They are partnering to create a cross-promotion featuring the network's soap opera, Days of Our Lives, and Real Housewives that will rebrand the reality show as a new sort of daytime soap.

"From a network, we see it as a benefit for us," says Scot Chastain, NBC's senior VP of affiliate marketing and development. "By pairing the two, we send more of a youth audience to Days, and we expose an older audience to Housewives. There's a lot of cross-blending potential there." READ MORE
By Luke Kerr on November 06, 2009
What could be better than one O Magazine? Two. The highly anticipated cover(s) of O Magazine with Ellen and Oprah on it were revealed today on The Oprah Winfrey Show. See the second cover after the jump. Which do you like best? READ MORE
By Luke Kerr on September 09, 2009
The Real Housewives of Atlanta
dropped by the
Ellen
show on Tuesday, and while
Nene
is my favorite of the Housewives, it was the recent scenes of
Sheree
pulling
Kim's
wig that interested
Ellen
. The topic quickly deteriorated into an argument about bounced checks, name calling and accusations of affairs with married men. Ellen tried to separate Sheree and Kim by sitting on the couch between them, but by time they cut to commercial, Ellen almost looked relieved.
When they came back from commercials, the Housewives played one of Ellen's favorite games, blindfolded musical chairs, and hilarity ensued. Watch a clip of the entire appearance after the jump. READ MORE
By Luke Kerr on September 09, 2009
The fifth season of The Ellen Degeneres Show kicked off yesterday and Ellen indulged in one of her favorite passtimes by having the So You Think You Can Dance Top 10 finalists dance with her on stage. It was a darn good performance! Watch after the jump. READ MORE
By Luke Kerr on May 12, 2009
By Jamey Giddens on May 11, 2009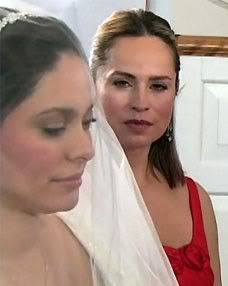 Not to be outdone by the boys,
After Ellen
has also released their 2009 list of the hottest women in pop culture. The highest daytime honor went to funny lady
Ellen Degeneres
at Number 15, but talking strictly soaps, it was
Young and Restless
newcomer
Clementine Ford
at Number 18. Ford won critical acclaim, as well as rabid popularity for her stint on the Showtime cable series
The L Word
.
Ford wasn't the only soaper on the list, the recently-cancelled Guiding Light made an impressive showing, with both halves of sapphic supercouple Otalia, Crystal Chappell and Jessica Leccia, making the cut at Number 50 and Number 60, respectively. You hear that Lifetime and Oxygen? You could have your L Word follow up right here! The smoking hot Chappell also came in Number 7 on After Ellen's Hot Women Over 40 List. The equally-stunning Leccia made Number 12 on the website's Hot Women of Color List.