Entourage
By Jenna Dorsi on June 27, 2013

Ray Donovan (Liev Schreiber) is a fixer. He's the guy a celeb calls when they are getting stalked, wake up with a dead one-night-stand in their bed, or have a transgendered hooker attempting to blackmail them. The most powerful athletes, actors, musicians, and lawyers of Los Angeles depend on Ray.

While Ray's got his work life handled, his personal life is another story. He is the patriarch of a family of Boston transplants living in Hollywood. Ray's disgruntled wife, Abby (Paula Malcomson), wants to move to a nicer neighborhood, so their two teenagers' can attend better schools. READ MORE
By Jamey Giddens on June 20, 2013

In 2006, she took over one of the most popular, young adult roles in the history of CBS Daytime's No. 1 soap — and more than made it her own. In 2013, however, The Young and the Restless alum Davetta Sherwood (ex-Lily Winters) is going hard on cable.
The talented actress is starring as feisty stylist Cecile on Fuse's first-ever scripted drama, The Hustle. I recently caught up with an all-grown-up Sherwood, who dished about her new gig in creator Prentice Penny's (Happy Endings) dramedy.
Daytime Confidential: Congratulations on being cast as Cecile in Fuse's premiere, scripted drama, The Hustle. What can you tell us about your character?
Davetta Sherwood: I play Kutta's [one of the rappers from the group] baby mom. She's a mother and a stylist. And despite not being with Kutta, she is still trying to have her career as well as keep a cordial relationship with her child's father. She kind of helped him get on and she still cares about him. But now she is dating someone and trying to live her life.
READ MORE
By Regan Cellura on January 21, 2009
Primetime Spoiler Round-Up!
I take requests and this past week we had a request for some Big Love SCOOP. Since it's one of my faves, who am I to not oblige? So we're kicking it off this week with everyone's favorite Polygamists. There's lots of trouble headed Nicki's way this season as she gets in over her head. Roman goes on trial and will we be hearing more about Bill's deceased sister Maggie? How did she really die? The fourth wife seems to be happening for the Hendrickson clan. Of course Ana brings some baggage in the form of an ex. Ben who wants to follow in dad's footsteps and makes his first visit to Juniper Creek. Sarah has a secret and it MAY put her friendship with Heather to the test. Secrets, lies… all the good stuff that we've come to love about Big Love! Plus, Barb's health and Bill faces a former foe. This looks to be another great season!
Thank you to all who tuned in to Friday Night Lights! They premiered to decent numbers (4.6 million) and if they hold those ratings we should get a fourth season. Stay tuned to NBC for the rest of season three. I promise you won't be disappointed. READ MORE
By Jamey Giddens on October 16, 2008
The wildest soap town of the all, Hollyweird, is all abuzz about the break ups of A-list "supercouples" like
Madonna
and
Guy Ritchie
and
Californication
's
David Duchovny
and
Tea Leoni
(Lisa,
Santa Barbara)
. Tabloids and gossip blogs on both sides of the pond can't get enough of every soapy detail of Madge and her Brit director's bust up. Was
A-Rod
involved? What's going to happen to the kids? Was their a pre-nup? Can Guy keep the cone bra?
Duchovny and Leoni's split is also causing tongues to wag and fingers to furiously type out speculation across cyberspace. Did Duchovny's role as a sex addicted writer on Californication spill over into his real life? Is Leoni banging Angelina Jolie's ex-Billy Boby Thornton? Who knows? Who cares? Funny you should ask. Apparently everyone one.
As magazines fold daily and newspapers lay off thousands of employees across the nation, the celeb rags have managed to flourish or at the very least remain stable. I'll tell you why, they have successful turned the lives of the rich and the wanton into real life soap operas. READ MORE
By Luke Kerr on August 15, 2008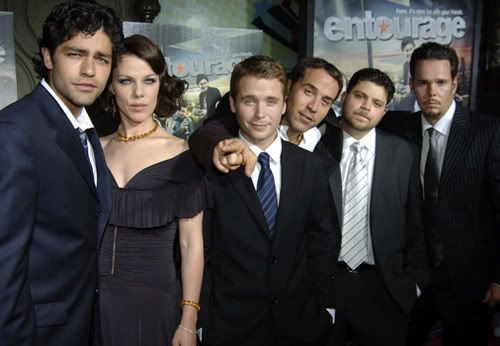 Testosterone meet estrogen. The ladies of
The View
are going to be dropping in on the gents of
Entourage
for a cameo in the upcoming season according to
ET Online
.
It should be interesting to see how Entourage pulls this off since Entourage is primarily set in California and The View is based in New York. Of course the guys could make a trip to New York or vice versa but even though I enjoy both shows, having the two converge in one place is a bit scarry.