Falcon Crest
By Jamey Giddens on October 10, 2013
I can't breathe. I can't breathe. I can't breathe. I can't breathe.
The Soap Gods have been so kind to us lately. Dallas was reborn. Ratings for the remaining network daytime soaps began to rise again in 2013. All My Children and One Life to Live returned for at least one additional season and thanks to Shonda Rhimes (Who doesn't know she writes soap operas, but that's okay!), the primetime sudser is alive and Scandal-ously well. Now comes even more news of sudsy wonderment and grape-stomping joy.
According to a report from TV Guide Magazine's William Keck, the cast of Falcon Crest has been approached about bringing the classic sudser back to TV! YEEEEEEEEEEEEEEEEEEEEK! From the article:
"There's not much I can say, for reasons that go beyond myself," original star William Moses said at the premiere of War Horse at Los Angeles' Pantages Theatre. "Warner Bros. owns the rights and so it's a discussion between them and the writers. There is a pitch and an idea germinating that has some traction. The producers contacted me to ask if I'd be interested, and I said yes. Where it goes on the producing side, I don't know."
By Jamey Giddens on September 18, 2013

With TVGN experiencing a ratings boon—in significant part due to re-airings of CBS Daytime's The Young and the Restless—I can't help but wonder if both the cabler and suds lovers alike would benefit from additional soaps finding a nighttime home on the Lionsgate/CBS-owned channel. Below are five sudser I think TVGN should acquire. READ MORE
By Jamey Giddens on April 15, 2013
One half of my all-time favorite soap supercouple is celebrating quite the milestone. Thirty years ago this month,
Kristian Alfonso
made her debut as fiery society princess Hope Williams on
Days of Our Lives
.
We Love Soaps'
Roger Newcomb
caught up with the ravishing brunette to discuss her tenure in Salem, U.S.A. Check out a few excerpts after the jump!
READ MORE
By Jamey Giddens on March 27, 2013

Who are the 60 Greatest TV Villains of All-Time? TV Guide Magazine's Bruce Fretts and Matt Roush listed their picks for the dubious distinctions in the March 25-April 7 issue of the magazine.
It should come as no surprise that many suds evil-doers made the cut, including Dallas' late, great J.R. Ewing (Larry Hagman) at No.1; Dynasty devil Alexis Colby (Joan Collins) at No. 7 and Dark Shadows' Barnabas Collins (Jonathan Frid) at No. 8. READ MORE
By J Bernard Jones on May 15, 2009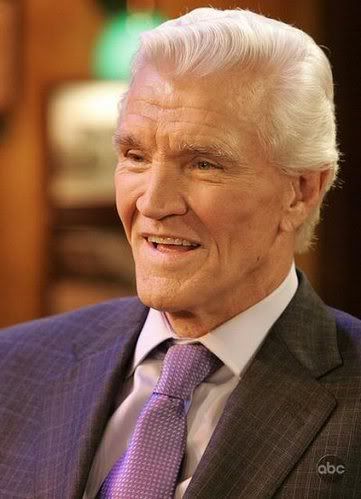 Even if you do not follow literature, you are no doubt aware that the title of this post is a phrase associated with the worst kind of lazy, pedestrian, obvious writing imaginable. "It was a dark and stormy night..." is, to put it bluntly, synonymous with the word "bad."
Bad in and of itself isn't always a bad thing, as there are varying degrees of badness from which to choose. For example, there are things that are "so bad they are good," like The Pussycat Dolls and RuPaul's Drag Race. There are other things that are really bad, like white people dancing to "Push It" and Julie Chen hosting Big Brother. Then you have things that are so atrocious, inspiring more WTF moments than a Samantha Harris post-performance interview on Dancing with the Stars that you question your sanity for sitting through it without clubbing a baby seal.
By "you" I mean "me," and it might not take too much of a stretch of the imagination to guess how I felt about Friday's abominable, lobotomized episode of All My Children that climaxed with the shooting of "a legendary character." READ MORE
By Jamey Giddens on January 24, 2009
Over the past few weekends we've been reminiscing about the greatest bitches from our favorite primetime soaps. We've fondly recalled
Dynasty
's larger-than-life Alexis Colby (
Joan Collins
) and
Knots Landing
's feline seductress Abby Fairgate (
Donna Mills
), but no discussion about primetime soap divas from the 80's could be complete without the most cunning, lethal, downright venomous one of them all–
Falcon Crest
's Angela Gioberti Channing ( the late
Jane Wyman
).
For nine pot boiling seasons veteran film actress Wyman (the ex-wife of then-President Ronald Reagan) ruled over the fictional Tuscany Valley wine vineyards as the indominable Angela, a woman wouldn't think twice about stabbing her own children, grandchildren, nieces and nephews in the back if it meant maintaining control of her grandfather's legacy, Falcon Crest. Some say it was The Angel Formerly Known as Lucifer in the Garden that fateful day with Eve and Adam, I say it was Angela. READ MORE