Friday Night Lights
By Luke Kerr on April 13, 2011
Michael B. Jordan's career has come a long ways since his early acting gigs on HBO's The Wire and ABC's All My Children. He currently appears on NBC's family drama Parenthood and is must see on the upcoming broadcast run of Friday Night Lights. During an interview with WTAM 1100 Cleveland, Jordan was asked how he felt about the All My Children cancellation rumors.
IHR: You got your start on (ABC soap) All My Children, and lately there's been talk that the show may be canceled. How do you feel about that?

Michael: It's dear to my heart because that's where I kind of got my chops from, so it's a little sad to see it go, but I'm all about evolution and change. There was an era for soap operas, and there was a time when soap operas were the thing to watch. But, seeing how reality TV is taking over that time slot, it's kind of like pushing them out like, 'Hey, old guys, it's over for you.' I'm sad, but at the same time I'm privileged to see a new era coming about. Still, if I was on a soap, I'd be pissed!
Friday Night Lights returns to NBC for its final broadcast season April 15.
By Jamey Giddens on November 10, 2010
As if my DC/PC cohort
Regan Cellura
didn't have enough reasons to drool over
The Bachelor
star-turned-daytime talk show host
Dr. Travis Stork
, now the hunky E.R. physician has
admitted
his favorite series is Regan's beloved
Friday Night Lights
.
"'Friday Night Lights' is my favorite show for the last few years. That's the show that I can't miss," says Dr. Stork. "I've never seen a show that was of higher quality that people didn't watch." READ MORE
By Johnathon on May 04, 2009
It was Infront presentation day at NBC, a day that has shows waiting on the hook for pick up, renewal or cancellation.
NBC picked up six new scripted series, which include two medical dramas, Trauma and Mercy; a family dramady, Parenthood; two comedies, 100 Questions and Community; and a new Post-Apocalyptic drama, Day One. READ MORE
By Johnathon on April 10, 2009


The season finale of Friday Night Lights airs tonight on NBC at 9 p.m. Eastern/8 p.m. Central.
By Johnathon on March 30, 2009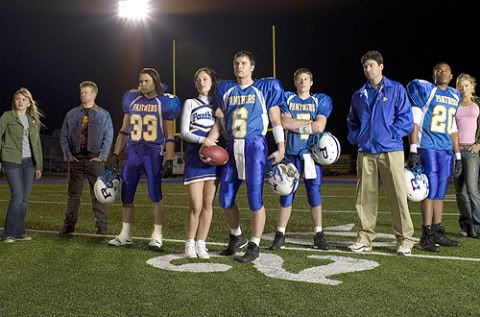 Good news for Dillion Panthers fans!
Variety.com
is reporting that the rumor that
Regan posted
is official,
Friday Night Lights
has been picked up for two more seasons, securing the show for 26 more episodes. Are you happy to have at least two more years with your favorite high school football team?
By Regan Cellura on March 10, 2009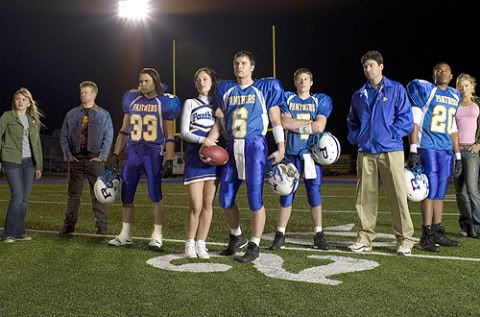 I know I am not the only DC'er in love with the critically acclaimed
Friday Night Lights
so I will spread the hopeful news that has me smiling from ear to ear:
FNL
may be getting a two season pick up! According to
Michael Ausiello
(EW.com), who has the
exclusive news
, it's looking good that
FNL
will get a fourth season as NBC and DirecTV try to work out a deal. Season three, airing now on NBC, had its first run on DirecTV.
Sources confirm to me exclusively that NBC is engaged in active talks with DirecTV to extend their unique shared-window experiment with Friday Night Lights. But there's a catch -- and it's a good one. According to an insider close to the negotiations, DTV and NBC might only seal the deal if they can get – holy Connie Britton Taylor! -- a two-season pickup.