General Hospital: Night Shift
By Daytime Confidential on September 27, 2008
On today's episode of Daytime Confidential Jamey makes a rare appearance on an ABC show, joining Luke, Tina and Belinda to discuss all the latest in All My Children, General Hospital and One Life to Live news including...

Eden Riegel's return to All My Children and the arrival of Tamara Braun. Rumors that Babe is being killed off and Amanda Baker is out.
Tea returns to One Life to Live and A Martinez is out. Who was sacrificed on the altar of Natalie and Jared?
Rumors of Tom Pelphrey joining General Hospital abound and we get initial reaction to the rumors from the group and discuss online reaction to the news.
John Reilly and Sharon Wyatt return as Sean and Tiffany to General Hospital: Night Shift and we discuss whether or not they should make the jump to the mother ship.
Listen to Daytime Confidential by clicking on the Daytime Confidential Player at the bottom of this post or Download us for FREE via iTunes. Vote for us on Podcast Alley. Add us as a Friend on MySpace and Facebook. Drop by our sister site TV Fan Online and visit with other soap fans in the TV Fan Online Forums.

By Regan Cellura on September 26, 2008
Here's the Scoop! 09.26.08
Night Shift News: How cool is this! According to SOAPnet, In the October 14 episode, you'll notice something so exciting, it has inspired us to set alarms so we don't miss it: Instead of the regular "Night Shift" opening theme, the show will use the 1980s title sequence from "General Hospital."
Wedding Day! Today's the day and it continues into Monday.
Pickle in the middle? Ric is caught in the middle of a brewing mob war between Sonny and Anthony. What about Anthony making it look like Karpov pulled the trigger?
Lulu and Johnny break up. I can't remember where I dropped it yesterday, it may have been in the comment, birthday blur. Johnny thinks ending things with Lulu is what's best for her. Lulu is heartbroken and done with love. A RUMOR hit a few days back that Lulu would be the one to first meet Sonny's bad boy son Dante. It didn't make sense until the break up SPOILERS popped up.

Luke's back! Tracy fills him in on what he's missed while globe trotting. It'll be Scotty vs. Luke once again. TPTB have been teasing a HUGE TWIST in Laura's story. READ MORE
By Regan Cellura on September 25, 2008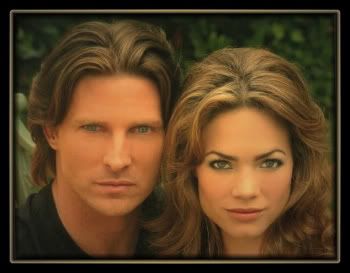 Here's the Scoop! 09.25.08
It's a Liason Day! Today is when Jason lays it all out on the table for Elizabeth. I love that he picked her over the biz! If I didn't already love Spinelli, I want to marry him now! There SHOULD be more nods to their history then just Italy. Pay close attention to their dialogue.

Carly meet your new best friend...Olivia! She'll be spilling Kate's secret today to a very pleased Carly.
More Secrets... well more on Patrick learning that Sonny has a secret son. What's he to do with that information? He has his own family drama to deal with. It looks like Kate thinks she's dying and tells Patrick that she's been keeping this HUGE secret from the man she loves. RUMORS broke that the son MAY NOT be Olivia's child. Who's is it? It APPEARS that he does have a name though. RUMOR has it, Sonny's son is named Dante.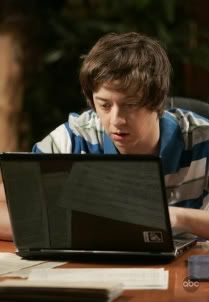 CRAZY CRAZY RUMOR ALERT... and it very well COULD BE fanfic. There is a RUMOR that Bradford Anderson will be in a dual role. These RUMORS say he'll be Dante. Get a salt boulder and check your blood pressure.
We haven't seen the last of him. Olivia's brother SHOULD be coming to Port Chuck. READ MORE
By Luke Kerr on September 24, 2008
TV Guide Canada's
Nelson Branco
has an
interview
with
General Hospital: Night Shift's
Chad Allen
at Out.com.
Would you consider jumping over to General Hospital when Night Shift ends its second season in October?

I'd be open to anything. I was hesitant to commit to daytime because I wasn't sure I would like it. Having filmed for a week, I think it's a blast. I love Eric and Kyle's relationship so much that I would hate to see it end.
Be sure to check it out HERE.
By Luke Kerr on September 23, 2008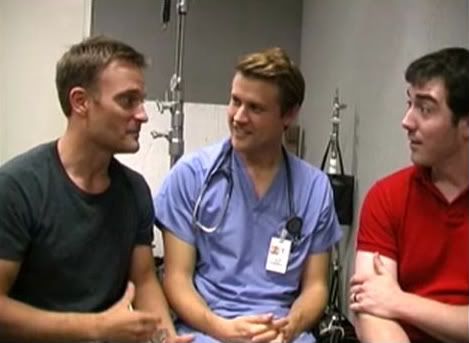 General Hospital: Night Shift's
Chad Allen
and
Adam Grimes
sat down with After Elton's
Daniel Leary
to talk about what it is like to interact with gay fans. Chad Allen then tells a Quaker Chewy Granola bar date story. Check it out
HERE
.
By Regan Cellura on September 19, 2008
Take a look at Kyle (
Adam Grimes
) and Eric (
Chad Allen
) on
General Hospital: Night Shift
! Are they going to give Bianca & Reese (
All My Children
) and Noah & Luke (
As the World Turns
) a run for hottest
couple
? In a very
Grey's Anatomy
like storyline, Kyle develops feelings for his patient Eric who is awaiting a kidney transplant.
For more pictures, check out AfterElton.