Generations
By Daytime Confidential on March 22, 2013
She made television history when she was named the first black person to serve as head writer of a daytime drama. On today's episode of the Daytime Confidential podcast, Michele Val Jean joins Jamey Giddens, Luke Kerr and Jillian Bowe as that soap opera, ABC Daytime's General Hospital, celebrates its 50th anniversary on April 1.
The veteran scribe, who also wrote for Generations, Santa Barbara, Port Charles and currently pens scripts for The Bold and the Beautiful, dishes about her historic career and so much more on today's Daytime Confidential podcast!
By Daytime Confidential on December 13, 2012
No. 15: The Graysons, Revenge

Retribution is a dish best served over the holidays, if you're a member of the Grayson clan on ABC's smash primetime soap Revenge. Blackmail, corporate espionage, insider trading and not-quite-fatal tumbles off balconies could all be on the gourmet menu, but for the chance to break holiday bread with Queen Victoria (Madeleine Stowe), we'd risk it.
By J Bernard Jones on September 16, 2010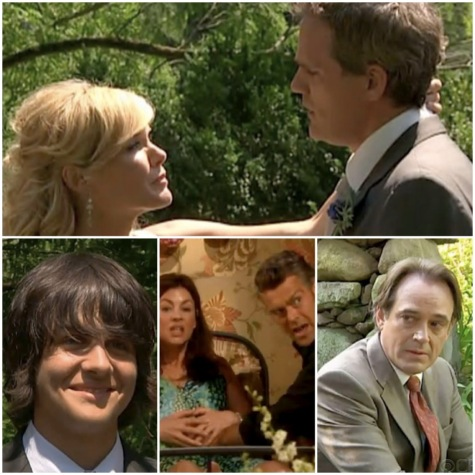 Several days ago, I posted an entry about the fallout from the death of Dr. Reid Oliver (Eric Sheffer Stevens) on As The World Turns. There were three central ideas in that piece. First, despite the very legitimate complaints that any given fan might have, ATWT is providing great human drama here at the end of its run. Second, Reid's tragic passing and donation of his heart to Chris (Daniel Cosgrove) encapsulated that goal mainly by thrusting the Hughes'— the show's core family since its very debut— front and center toward its conclusion. Third, given the soap opera wrapped production months ago, the idea of kicking a dead horse with unrelenting criticism isn't going to make it win the Kentucky Derby.
I have not budged one iota from any of those positions and I am about to incur the wrath of a whole lot more of you by making what I know will be a very controversial statement to many: I believe that in these final days, executive producer Christopher Goutman has made mostly the right decisions.
By Luke Kerr on March 01, 2010
TV Guide Network announced today that Vivica A. Fox is joining their red carpet Oscar team at this year's show. She will join Carrie Anna Inaba, Chris Harrison and Lawrence Zarian for this Sunday's telecast of Live at the Academy Awards with Carrie Anne and Chris. It airs at 6 PM EST/3PM PST.
By J Bernard Jones on February 10, 2010
Another daytime great has passed away. David Froman died Feb. 8. He was 71. While the beloved character actor was a staple of such prime time series as Simon & Simon, TJ Hooker, Trapper John MD, 21 Jump Street, Diagnosis Murder and Matlock, Froman was probably best known for his stellar work as Gunther Wagner on the legendary Edge of Night.
Although Gunther (who's real identity was Bruno Wagner, Gunther's identical twin) was a villainous thug, who once attempted to rape Jody Travis (then-newcomer Lori Loughlin) and was later murdered in one of Edge's signature byzantine plot twists, Froman was so popular among fans he was brought back later to play the real Gunther, a lovable lug who was snarky before snark was cool. Froman played the latter role until the end of Edge's run in 1984.
After Matlock (on which he appeared for its entire run) ended, Froman retired from acting and taught drama at Northeastern Oklahoma A&M College in Oklahoma until the time of his death from cancer. Froman will be missed by his fans, who can visit his Facebook memorial page. Check out a clip of "The Murder of Gunther Wagner, Part 1" from Edge of Night after the jump. READ MORE
By Jamey Giddens on January 25, 2009
All the bad press daytime has been getting of late has had at least one positive side effect. Pop culture bibles like
TV Week
and
Entertainment Weekly
are paying attention to the genre again and even reminiscing about it's rosier days.
EW.com
posted the above clip, featuring a classic, bitchtastic cat fight between Maya (
Vivica A. Fox
) and Doreen (
Jonelle Allen
) on NBC's short-lived
Generations
. Maya and Doreen battled it out over ice cream heir Adam Marshall (
Kristoff St. John)
, whom the late-
Bill Bell
smartly snatched up for T
he Young and the Restless
shortly after NBC foolishly cancelled the groundbreaking soap. What I wouldn't give to see this show released on DVD or aired online. After you watch the clip, check out my
exclusive interview
with Fox last fall where she talked about her soapy past.