Golden Girls
By Luke Kerr on January 17, 2014
America's golden girl and former The Bold and the Beautiful star Betty White celebrates her 92nd birthday today. The actress, who has been recognized by Guinness World Records as having the Longest TV Career For An Entertainer (Female), began her profession in the 1930s on radio. To this day, White is still generating laughs on TV Land's Hot In Cleveland.
Parade compiled some of White's best quotes, which includes:
On men:

"I've always liked older men. They're just more attractive to me. Of course, at my age there aren't that many left!"
Watch clips from Betty White's illustrious career after the jump! READ MORE
By Luke Kerr on April 11, 2012
American sweetheart and NBC ratings grabber Betty White joined Twitter on Tuesday. The Hot in Cleveland and former Golden Girls superstar entered the Twitterverse saying,
Hello Twitter! And they said it would never happen. Oh wait, that was me.
By Wednesday morning over 105,000 people had followed the beloved TV icon. So which celebrity did White tweet first? That would be American Idol host Ryan Seacrest.
Hey @RyanSeacrest - my new show airs tomorrow and I hear we're in the same time slot. I've always dreamed of sharing a night with you...
By Regan Cellura on June 12, 2009
Betty White
playing beer pong? No way! But that's just what
Late Night
host
Jimmy Fallon
had her doing!
By Luke Kerr on March 10, 2009
Did you know that
Betty White
(ex-Ann Douglas,
The Bold and the Beautiful
) is a Girl Scout? I didn't. Check out her hilarious stop by
The Late Late Show With Craig Ferguson
.
I really wish my DVR wasn't so jam-packed full of TV shows or I would record The Late Late Show. Craig Ferguson is hilarious and I like him better than his time slot competitors.
By Luke Kerr on August 12, 2008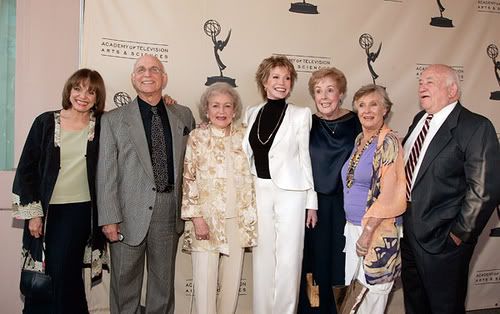 Betty White recently celebreated 60 years in show business with her former Mary Tyler Moore Show co-stars, among others. White, who portrays the mother of The Bold and the Beautiful's Stephanie Forrester, Ann Douglas is an entertainment icon and has legions of fans.
I thought it might be fun for fans to share their favorite moments from her long career. What are your favorite Betty White roles, characters, moments or appearances?