Imaginary Bitches
By Jamey Giddens on June 09, 2009
Catherine
and
Heather
, stars of
Imaginary Bitches,
took a stand against discrimination towards imaginary performers at the recent Webby Awards.The You Tube divas costar,
Eden Something or Other
, won the People's Voice Webby Award, but Catherine and Heather received absolutely nothing for all the hard work they did last year! I totally sympathize with the girls. Eden Riegel once stole an award from me as well...
This is just like when Macauley Culkin was paid $20,000 bucks for the first Home Alone, which made the studio a bazillion dollars. Catherine and Heather should walk off the set! Did Andrew Miller present them with imaginary Mercedes Benz after the first successful season of the show? No. Did he offer to make one of them his imaginary mistress and put her up in an imaginary condo in Malibu, complete with a Sri Lankan houseboy for when he can't get away from that pesky Eden? No. READ MORE
By Jamey Giddens on June 01, 2009
My BSS (Best Soap Star)
Eden Riegel
needs your help. On June 8, Eden will deliver her acceptance speech for winning the People's Voice Webby Award for her breakout turn in
Imaginary Bitches
. The catch is, Eden is only allowed five words to say thank you. Sheesh, is
Dick Clark
producing this thing or what? Anyhoo, the ever-gracious starlet is giving the fans who helped make IB such a smash success the opportunity to write her speech. Go
here
to submit your ideas, then later in the week IB's ravenous fans—you know, the ones who helped
Chuck Pratt
beat
Bob Guza
in the ratings— will vote to pick the top 3-5 entries. Hmm, I wonder if
Catherine
or
Heather
will run up on stage and accept the Webby before Eden can get there like
Bridget Dobson
did to
Jill Farren Phelps
at the 1998 Daytime Emmys
? A curse on you New World Television. My
Santa Barbara
might still be on if you hadn't booted the Dobsons in favor of that Soap Opera Slayer!
The change in me is you now,
The change in me is you, some how READ MORE
By Jamey Giddens on May 19, 2009
Attention Eden Riegel fans
: The June 2009 issue of
Curve Magazine
is one you won't want to miss! The issue features a two-page spread, offering an in depth overview of Eden's groundbreaking turn as Bianca Montgomery on
All My Children
written by yours truly. Eden and I chat in great detail about everything from Bianca coming out to her famously-fabulous mother Erica Kane (
Susan Lucci)
, to the character's tragic rape and status as perhaps the most unlucky-in-love lesbian in pop culture history. On the heels of Bianca reuniting with her bride Reese (
Tamara Braun
) and once again heading out of town, will Riegel come back to Pine Valley for another visit? You'll have to head out to your local bookstore and pick up a copy of
Curve
find out!
READ MORE
By Jamey Giddens on May 16, 2009

When it comes right down to it, everyone knows the only truly important consideration for the Daytime Emmys is what designer the nominated stars will wear on the big night. I hear Imaginary Bitches leading lady Catherine is leaning toward Vivienne Westwood, while Heather was overheard asking in demand designer Jason Wu if he made crotchless evening gowns, at a recent gala at the Met. She's lucky Keifer Sutherland didn't give her an imaginary head butting for asking such a thing! Catherine and Heather's costars Eden Riegel and Brooke Nevin have opted to use a lesser known designer. Sigh. The show's first Emmy nod, and they're already trying to start trends!
By Jamey Giddens on May 14, 2009

It looks like every cloud has a silver web series. I am rescending
Opposites Day
to sincerely, and totally on purpose congratulate the cast and crew of my favorite 2008 series
Imaginary Bitches
on
their very first Daytime Emmy nomination. No, seriously, IB
is
my favorite show, has been since the moment I saw that one guy call
Eden Riegel
"bat shit crazy". Opposites Day is over people. Let's move on!
"We couldn't be more thrilled," says Imaginary Bitches creator Andrew Miller. "Even Catherine and Heather are walking around with smiles on their faces!"
IB is nominated in the New Approaches in Daytime Entertainment category opposite fellow You Tube series I Met The Walrus. TAC. TV, The New York Times Magazine Screen Tests and All My Children are also nominated. READ MORE
By Jamey Giddens on May 08, 2009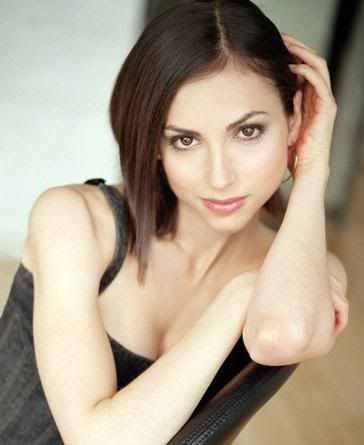 Webby Award winner
Eden Riegel
has mastered the art of playing long (and I mean
long
) suffering lesbians on
All My Children
, and proven herself to be the You Tube hybrid of
Lucille Ball
and
Sarah Jessica Parker
on
Imaginary Bitches
, now our scrappy reel and real life heroine is headed for a new challenge, training for the AIDS Project Los Angeles Half Marathon.
"The APLA is a fantastic organization, providing much needed support and services for people who are directly affected by HIV. In these touch economic times, a lot of great causes have taken a hit. I know times are hard for everyone, but if you happen to be looking for a worthy recipient to donate to this year, I wanted to bring this to your attention and give you an opportunity to support the good people over at the APLA," says Riegel.
Riegel's goal is to raise $5,000 for the APLA. At last count, the spunky actress had already inspired over $2600 in donations. What do you say, why not help our girl out? To donate, and/or to find out more information about this worthy cause go here.