Loving
By Jamey Giddens on October 07, 2013
Prolific actor John O'Hurley isn't one of those thespians who's ashamed to talk about his soapy past, or the friendships he made while bubbling up! In a new interview with the Miami Herald—promoting his turn in a local production of Chicago—the multi-soap alum recalls how he met his best friend and fellow Seinfeld alum, Breaking Bad's Bryan Cranston, on the set of ABC Daytime's Loving. Here's an excerpt:
Do you keep in touch with anyone from the old "Seinfeld" gang?

Well, Bryan Cranston [who played dentist Tim Whatley] has been my best friend since 1983. We met on the soap opera Loving. We were married to the same woman on the show. He's been my best man twice. I told him never again! We're going away with our wives once we have a little breather. We travel a lot together. We even bought a couple of vacation properties together.
By Jenna Dorsi on May 30, 2013
Jennifer Lopez is looking at real life to inspire her latest project. The entertainment mogul recently chatted with ABC News about her "non-traditional family" and her new ABC Family soap The Fosters.

Lopez and ex-husband Marc Anthony share 5-year-old twins Emme and Max. The twins also have three siblings from their father's previous relationships. Post divorce, Lopez has been dating her backup dancer and choreographer, Casper Smart. It's no wonder she wanted to serve as executive producer for a series about a multi-ethnic couple raising a mix of biological and adopted children!
Said Lopez:

So putting a show like this one to me is, look, there is no perfect [of] what family is supposed to be. It's about love and that's what I constantly remind myself of because I kind of let society get inside my head, 'Oh, it shouldn't be like this. I did this, I did that. I failed.' And it's like, no. [My kids are] happy, they're healthy, they're loved more than anything in the world and they're going to be fine. I want them to know that. READ MORE
By Luke Kerr on May 24, 2012
Former Loving and Passions star Richard Steinmetz is coming to Port Charles. General Hospital's Frank Valentini told Soap Opera Digest, "Richard is playing the son of a former character who will have big story with Sonny."
By Luke Kerr on March 23, 2012
Former The Young and the Restless, Guiding Light, Port Charles and Loving star Rebecca Staab will be getting her flirt on in upcoming episode of Glee. Staab's character will be purring like a cougar as she flirts with Puck (Mark Salling), according to Soaps in Depth.
"No singing. Just walkin' and talkin' and flirting with Puck while in a bikini," Staab tells Soaps In Depth. "Cougar stuff."

Staab will appear in the episode titled "Choke" later this season. "My scene is breif, but it's difficult to get on this show, so I'm thrilled.
By Luke Kerr on June 24, 2011
Former Loving star Jessica Collins has signed on at The Young and the Restless. According to TV Guide, Collins will portray a high-powered attorney by the name of Avery Clark. Reportedly, Avery will represent Sharon (Sharon Case) and first appear on July 27.
By J Bernard Jones on September 16, 2010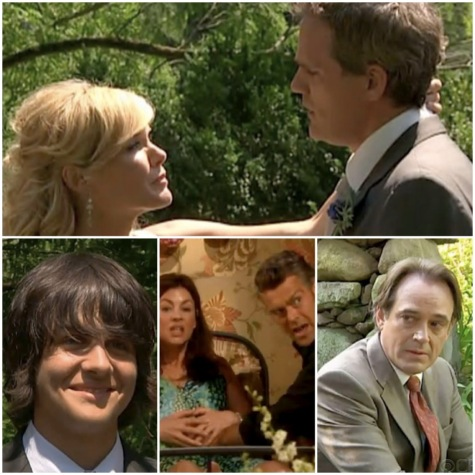 Several days ago, I posted an entry about the fallout from the death of Dr. Reid Oliver (Eric Sheffer Stevens) on As The World Turns. There were three central ideas in that piece. First, despite the very legitimate complaints that any given fan might have, ATWT is providing great human drama here at the end of its run. Second, Reid's tragic passing and donation of his heart to Chris (Daniel Cosgrove) encapsulated that goal mainly by thrusting the Hughes'— the show's core family since its very debut— front and center toward its conclusion. Third, given the soap opera wrapped production months ago, the idea of kicking a dead horse with unrelenting criticism isn't going to make it win the Kentucky Derby.
I have not budged one iota from any of those positions and I am about to incur the wrath of a whole lot more of you by making what I know will be a very controversial statement to many: I believe that in these final days, executive producer Christopher Goutman has made mostly the right decisions.