Men in Trees
By Luke Kerr on May 23, 2013
Former Another World and Men in Trees star Anne Heche debuts her new comedy Save Me on NBC tonight with back-to-back episodes. Heche portrays Beth Harper, a woman who claims she can talk with God, after a near death experience. Check out previews for Save Me after the jump!
By Luke Kerr on December 03, 2008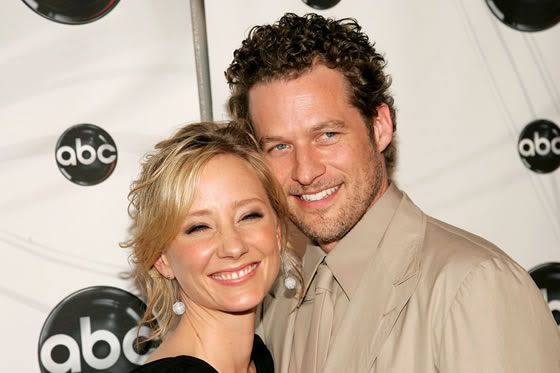 Us Magazine
is reporting that former
Men in Trees
stars
Anne Heche
and
James Tupper
are expecting their first child.
Thanks to Lynn for the heads up!
By Luke Kerr on May 15, 2008
People is reporting that former Another World star Anne Heche is up a tree...er creek, now that her ABC show Men In Trees has been canceled. Heche told a judge that she can no longer pay the $15,000 a month in child support she was paying while starring in Men in Trees. This is what she wrote in cour papers.
I am continuing to look for work, but I have no offers pending and the impending strike by the Screen Actors Guild reduces my prospects for work even further...Since January 18, 2008, I have been unemployed and had no income from employment except for one very short-term contract for a movie role for which I received a total of $65,000, approximately the amount I received for one episode of Men In Trees."
Fun fact: Anne Heche is the all time favorite soap star of Daytime Confidential's Jamey.
By Jamey Giddens on May 05, 2008
You Tube is so addictive. After looking at clip after clip of the late great Beverlee McKinsey's work, I decided to look up another one of my favorite blonde P&G powerhouses, Anne Heche, whose ABC series
Men In Trees
has been canceled.
Heche was the second actress to portray Another World's wonder twins Vicky Hudson and Marley Love, and although I loved all three actresses who held the parts, Heche is by far my favorite. In fact as I mentioned in the earlier post, she is my favorite daytime actress, period. I went in mourning after she left the show in 91 and it took her replacement Jensen Buchanan a good year before she won me over and boy did she ever (Will someone get Jensen back to daytime already?) but Anne will always be "my" Vicky and Marley. READ MORE
By Jamey Giddens on May 04, 2008
My all-time favorite soap actress EVER, Anne Heche (ex-Vicky and Marley, Another World) finds herself without a job as TV Guide's Michael Ausiello is reporting that ABC has canceled Men In Trees. Luckily for fans of the cult fave, series creator Jenny Bicks (Sex and the City) saw the writing on the wall and wrote an alternate series finale to substitute for the season finale just in case. I admit that despite my Heche love, I could never get on board with Trees, but I know the show has a really loyal fan base, including our very own Luke, so this bites for them. Here's hoping ABC moves the brilliant Heche over to Dirty Sexy Money or Brothers and Sisters! Men In Trees will begin its finale run of new episodes on May 28.