Ryan's Hope
By Luke Kerr on December 01, 2008
Marg Helgenberger
and
Alan Rosenberg
are
splitting
after 19 years of marriage. Helenberger, who stars on CBS's most popular show
CSI,
met Rosenberg in 1984, when both were appearing on
Ryan's Hope
. He is the president of the Screen Actors Guild.
By Daytime Confidential on October 14, 2008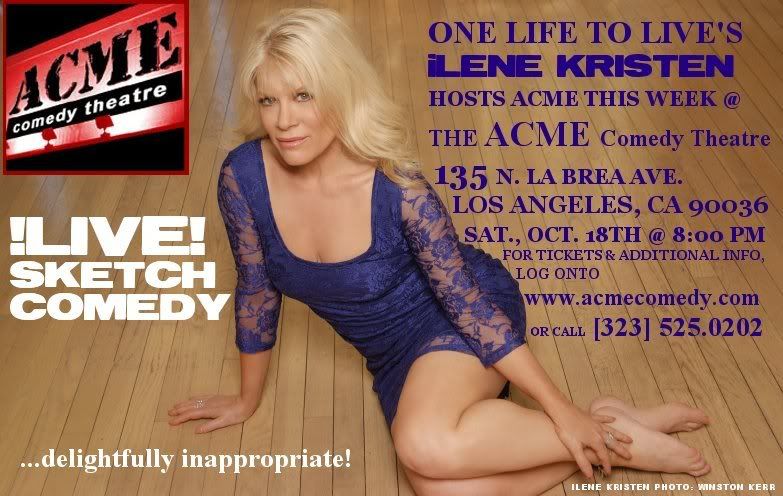 One Life to Live's
Ilene Kristen
dropped by Daytime Confidential to discuss her upcoming appearance as
ACME This Week's
host on Saturday, October 18th at 8pm and an appearance at
Cops for Causes
on Thursday, October 16th.
During our visit we talk about Ilene's time on Ryan's Hope, what it was like to work with Claire Labine and whether or not "The Powers That Be" at ABC are interested in giving a wink to fans by having her and former Ryan's Hope co-star Ron Hale (General Hospital's Mike Corbin) reunite on One Life to Live or General Hospital.
Ilene reveals why Roxie and Max Holden's relationship was cut short and shares how she recently took Kristen Alderson (Starr, One Life to Live) to a Madonna concert. We discuss who Rex's father might be and Ilene talks about how September 11th affected her acting career.
To buy tickets for Saturday's ACME This Week CLICK HERE.
Related Links: Ilene Kristen on MySpace l ACME This Week l Cops for Causes

READ MORE
By Luke Kerr on July 17, 2008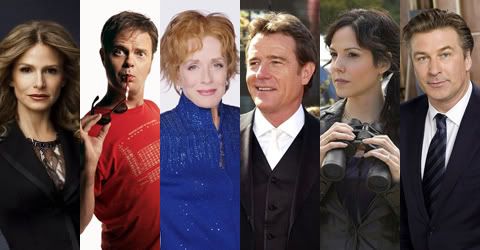 Six soap alum have received Primetime Emmy nomations in the major acting categories at this year's 60th Annual Emmy Awards. From left to right.
Kyra Sedgwick, the star of TNT's The Closer and who once appeared on Another World was nominated in the Outstanding Lead Actress category.
Rainn Wilson, star of NBC's The Office and who once appeared on One Life to Live as Casey Keegan was nominated in the Outstanding Supporting Actor in a Comedy Series category.
Holland Taylor, who stars on CBS's Two and a Half Men as Charlie Sheen's mother once starred on All My Children as Jill Ollinger. Taylor received a nomination in the Outstanding Supporting Actress in Comedy Series category.
Bryan Cranston, the star of HBO's In Treatment once appeared on One Life to Live as Dean Stella. Cranston received an Outstanding Lead Actor in a Drama Series nomination.
Mary-Lousie Parker, the star of Showtime's Weeds and who once appeared on Ryan's Hope received an Oustanding Lead Actress in a Comedy Series nomination.
Alec Baldwin, the star of NBC's 30 Rock and once appeared on The Doctors received an Oustanding Actor in a Comedy Series nomination.
Congrats to them all!