Sesame Street
By Jamey Giddens on April 17, 2013
Mad Men's Jon Hamm recently appeared on Sesame Street. For the first time ever, the actor was the one dying to see what someone else was working with! Check out the clip of Hamm begging Elmo to show him his sculpture after the jump.
By Luke Kerr on February 04, 2013
An imported TV series knows it has truly succeeded when it gets a shout out from Sesame Street. In a charming skit called "Upside Downton Abbey," Sesame Street channels the Dowager Ccountess (Maggie Smith) and Carson (Jim Carter) at tea. Watch Upside Downton Abbey after the jump! READ MORE
By Melodie on November 26, 2012
The Huffington Post reports former Guding Light and As the World Turns scripwriter Emily Squires passed away last Wednesday at New York's Mount Sinai Hospital. Squires also wrote for The Search for Tomorrow, The Secret Storm and directed episodes of Sesame Street. She was 71.
By Jamey Giddens on May 09, 2012
A pair of cute, cuddly blondes,
Big Bird
and
Ellen Degeneres
, led the non-soap Daytime Emmy nominations this year. Kiddie TV classic
Sesame Street
had the most non-soap nominations with 16.
The Ellen Degeneres Show
nabbed the most talk show nods with 12. For the complete list of Daytime Emmy nominees (including soaps again) see below!
By Luke Kerr on May 14, 2009
All My Children
had better watch its back. The gangsters over at
Sesame Street
aren't happy at coming in second. They've already taken out the Corinthos, Kiriakis and DiMera mob families and now they've their sights set on the Pratt Valley Mafia. The
36th Annual Emmy Award
organizers should make sure they have tight security or Elmo just might cap Zach Slater's ass.
MULTIPLE NOMINATIONS
All My Children 19
Sesame Street 15
Days of Our Lives 13
The Ellen DeGeneres Show 12
One Life To Live 11
The Young and the Restless 10
General Hospital 7
The View 7
As the World Turns 6
The Bold and the Beautiful 6
The Oprah Winfrey Show 6
From the Top at Carnegie Hall 5
The Tyra Banks Show 5
82nd Annual Macy's Thanksgiving Day Parade 4
Guiding Light 4
Johnny and the Sprites 4
Rachael Ray 4 READ MORE
By Jamey Giddens on March 13, 2009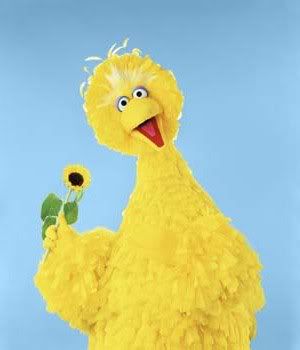 We just got wind of SHOCKING developments on the set of one of television's longest running daytime programs—
Sesame Street
. According to the
Atlanta-Journal Constitution
,
Sesame Street
is SLASHING 20 percent of it's workforce. Could PBS pull a
Ken Corday
and FIRE his
Biggest Bird
?
Daytime Confidential spoke today with some of Sesame Street's veteran residents. Due to fear of blacklisting—you know how petty certain muppets can be—we promised to keep their identities a secret:
"This is an abso-vute vagedy. I vave veen velping vildren vearn to vount vor vover vee vecades! Vow vey vant to voot ve vout?" said one incensed SS vet, before asking what my blood type was.
"Well, I guess I shouldn't complain, since I really don't exist, right?" reasoned another long-term star. "I mean, I'm only a figment of the main character's imagination, so it was really a good gig for an imaginary elephant if you think about it? Doh! Can you take out that part about my being an elephant? If that diva bitch Big Bird finds out I talked he will write me out of all his scenes next week!" READ MORE