The Closer
By Jillian Bowe on October 18, 2010
ABC Soaps In Depth
is reporting former
General Hospital
star
Greg Vaughan
has snagged a role on TNT's
The Closer
. The actor will play Officer Wagner along side
Kyra Sedgwick
. Said Vaughan:
"[The episode is] based on a true story about two cops who had an experience with a young man who was financially successful as a realtor. Then things went bad for him because he had a drug addiction, and he found himself on Skid Row at the bottom of the barrel. So I'm actually playing a portrait of a real cop.
Vaughan's episode is slated to air in Dec.
By Daytime Confidential on August 30, 2010
Former Another World star Kyra Sedgwick (pictured above with husband Kevin Bacon, who appeared on Guiding Light) took home the Emmy for Outstanding Actress in a Drama for her role on The Closer, Sunday night at the 62nd Annual Primetime Emmy Awards. Sedgwick and Bacon weren't the only former or current soap stars shining on the red carpet. Former All My Children favorite Eva LaRue, The Bold and the Beautiful guest star Betty White, The Young and the Restless' Kate Linder, former Y&R star and one-time Brenda Bot Eva Longoria Parker and AW grad Jane Krakowski were also on hand. Glee's former Mrs. Schuester and Imaginary Bitches guest star Jessalyn Gilsig also looked fantastic on the red carpet.
See more Emmy red carpet photos after the jump! READ MORE
By Luke Kerr on June 09, 2009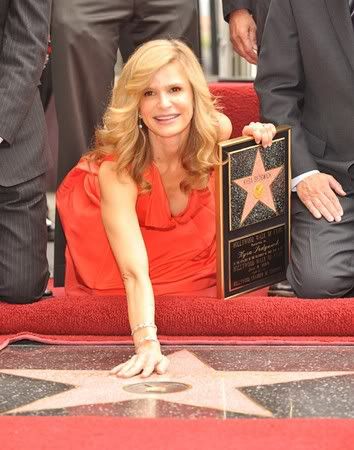 Kyra Sedgwick,
rocking a pair of white-gold and diamond, pave
Parentesi Openwork
bangles,
received a star on the Hollywood Walk of Fame on Monday June 8, 2009. The honor took place on the same day that Sedgwick's hit show
The Closer
returned TNT for its fifth season. Sedgwick made her acting debut on NBC's
Another World
at the age of 16.
By Luke Kerr on December 11, 2008
The Golden Globe nominations were announced today and in the TV categories former daytime star
Kyra Sedgwick
has been nominated as Actress in a Drama along with
Brothers and Sisters'
Sally Field
. Also nominated, HBO's
True Blood
in the Television Series Drama category.
General Hospital's
Graham Shiels
appeared on
True Blood
several times this season.
On the comedy side of things former Ryan's Hope star Mary-Louise Parker took home a nomination for Weeds while America Ferrera was nominated for Ugly Betty and Debra Messing earned a nomination for The Starter Wife.
BEST MOTION PICTURE – DRAMA
The Curious Case of Benjamin Button
Frost/Nixon
The Reader
Revolutionary Road
Slumdog Millionaire
BEST PERFORMANCE BY AN ACTRESS IN A MOTION PICTURE – DRAMA
Anne Hathaway, Rachel Getting Married
Angelina Jolie, Changeling
Meryl Streep, Doubt
Kristin Scott Thomas, I've Loved You So Long
Kate Winslet, Revolutionary Road
BEST PERFORMANCE BY AN ACTOR IN A MOTION PICTURE – DRAMA
Leonardo DiCaprio, Revolutionary Road
Frank Langella, Frost/Nixon
Sean Penn, Milk
Brad Pitt, The Curious Case of Benjamin Button
Mickey Rourke, The Wrestler
BEST MOTION PICTURE – COMEDY OR MUSICAL
Burn After Reading
Happy-Go-Lucky
In Bruges
Mamma Mia!
Vicky Cristina Barcelona READ MORE
By Luke Kerr on July 17, 2008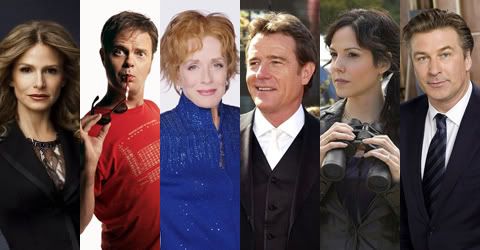 Six soap alum have received Primetime Emmy nomations in the major acting categories at this year's 60th Annual Emmy Awards. From left to right.
Kyra Sedgwick, the star of TNT's The Closer and who once appeared on Another World was nominated in the Outstanding Lead Actress category.
Rainn Wilson, star of NBC's The Office and who once appeared on One Life to Live as Casey Keegan was nominated in the Outstanding Supporting Actor in a Comedy Series category.
Holland Taylor, who stars on CBS's Two and a Half Men as Charlie Sheen's mother once starred on All My Children as Jill Ollinger. Taylor received a nomination in the Outstanding Supporting Actress in Comedy Series category.
Bryan Cranston, the star of HBO's In Treatment once appeared on One Life to Live as Dean Stella. Cranston received an Outstanding Lead Actor in a Drama Series nomination.
Mary-Lousie Parker, the star of Showtime's Weeds and who once appeared on Ryan's Hope received an Oustanding Lead Actress in a Comedy Series nomination.
Alec Baldwin, the star of NBC's 30 Rock and once appeared on The Doctors received an Oustanding Actor in a Comedy Series nomination.
Congrats to them all!
By Luke Kerr on July 14, 2008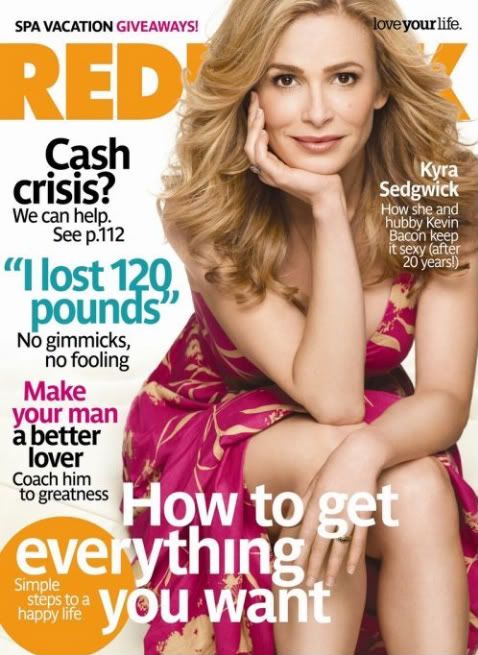 Kyra Sedgwick's hit TNT show The Closer returns tonight and the former Another World alum is on the August cover of Redbook magazine. The Closer is one of my favorite summer series and I can't wait for it and Saving Grace to return tonight.
In other The Closer news former General Hospital and Guiding Light star Stephen Martines will be making a guest appearance on the show.