The Wire
By Regan Cellura on December 09, 2008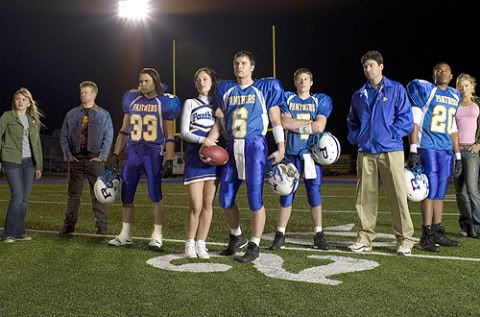 It's about damn time!
Friday Night Lights
is one of the best shows on primetime TV, yet it has never received the recognition it deserves. That all changes with the
Writer's Guild Awards Nominations
, as my beloved FNL is nominated for Dramatic Series.
Friday Night Lights returns for a third season on NBC in 2009 after it's run on DirecTV wraps up. Translation: You have plenty of time to watch Seasons One and Two on DVD before the Season Three premiere. Add it to your Christmas list. So many think it's just some football show and I assure you, it's so much more than that. Not to mention the incredible acting by the entire cast and amazing storytelling.
Lost, Dexter, Mad Men and The Wire were also nominatedin the Dramatic Series category. FOX's Fringe picked up nods for New Series and Long Form for the pilot episode.
FNL returns to NBC on Friday, January 16, 2009 at 9 p.m.

By Jamey Giddens on October 07, 2008
SPOILER ALERT
: The CW's
90210
finally earned its spot as Appointment TV for this soap fan tonight as it girl Naomi (
AnnaLynne McCord
) was busted for drug possession and several couples heated up. Sure its been fun catching up with old friends like Brenda (
Shannen Doherty
) and Kelly (
Jennie Garth
), but until tonight's episode I was wondering if the 2.0 teens would actually prove intereresting enough for me to invest in for a full season, not to mention 10 as I did with the original Peach Pit crew.
Not surprisingly it isn't the actors The CW heavily-hyped, Shenae Grimes (Annie) or McCord, formerly of Nip/Tuck, as Naomi who are proving to be the teen soap's break outs. Those distinctions go to Tristan Wilds as Annie's adopted brother Dixon and Jessica Stroup as the brilliant Silver. How awesome is it that Kelly and David (Brian Austin Green)'s kid sister from the parent show is fast proving to be the show's anchor, a lesson both daytime and primetime could learn from–honor your history. The CW was banking on Grimes and McCord as their Gen Next front women when all they had to do was pick up a script from the original. READ MORE