Ugly Betty
By Jamey Giddens on January 26, 2009
ABC, the same network that cancelled
Pushing Daisies
and
Dirty Sexy Money,
has announced it is shelving
Ugly Betty
temporarily to re-launch the
Christina Applegate
vehicle
Samantha Who?
in
Betty
's Thursday timeslot. The 30-minute laugher will be paired with I
n The Motherhood
, a sitcom from
Chelsea Handler
, that launched on the web.
"Ugly Betty will return to Thursday nights at 8:00 p.m. following the run of In the Motherhood and Samantha Who?," ABC said in a press release today.
I don't have a good feeling about this. MARK, bring the car around!

By Regan Cellura on January 15, 2009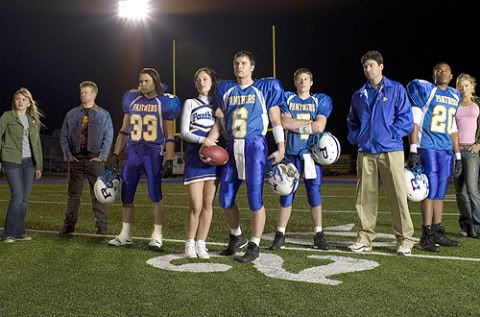 Primetime Spoiler Round-Up!
I'm kicking it off with a show I'm not really going to SCOOP on but instead beg you all to tune in! Friday Night Lights returns to NBC tomorrow night! I cannot say it enough, if you caught an episode here and there or are a faithful viewer like me, tune in as this season is the best yet.
BONES is returning a little later than originally planned. It MAY even return with two all new episodes on one night. The first of which has Bones and Booth going undercover at the circus. Sure to bring in the laughs with Dr. Sweets helping the duo dissect the circus world. Fake sex in a trailer and dead Siamese twins… oh how I love BONES!

Check out the latest gossip on Gossip Girl as a spin-off is in the works. In fact the "pilot" will be much like Private Practice's was; happening within an episode of Gossip Girl in May. Lily and Rufus' son is not dead and RUMOR has it we will meet the secret love child later on this season. Is a couple reuniting? RUMORS say a "core" couple will be finding their way back to one another but who could it be? Nate and Blair perhaps? READ MORE
By Regan Cellura on January 12, 2009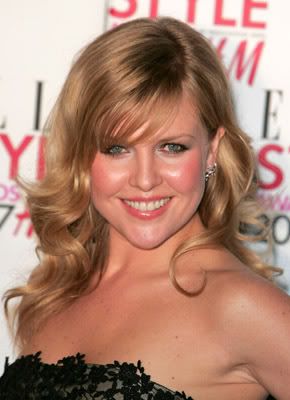 Kristin at E! Online
has exclusive scoop on Betty's BFF asking to leave
Ugly Betty
. What's going on at the alphabet network that has actors asking to be let go? Have they missed the unemployment rates? According to E!,
Ashely Jensen
who plays Christina, Betty's (
America Ferrara
) best gal pal, has asked to be released.
Kristin goes on to drop another Betty Bombshell. She's also learned that another character is being killed off. Who is it? Not sure as Kristin's only clue is that the character who is dying just came aboard this season.
By Jillian Bowe on January 05, 2009
Congratulations are in order for
Ugly Betty
star
Rebecca Romijn
(Alexis Meade) and her husband actor
Jerry O'Connell
(Woody,
Crossing Jordan
). The couple are proud parents of twin girls, Dolly Rebecca Rose and Charlie Tamara Tulip who arrived on Dec. 28. A representative for Romijn told
People
magazine,
Mother, father and both girls are all home and doing well.
By Luke Kerr on December 17, 2008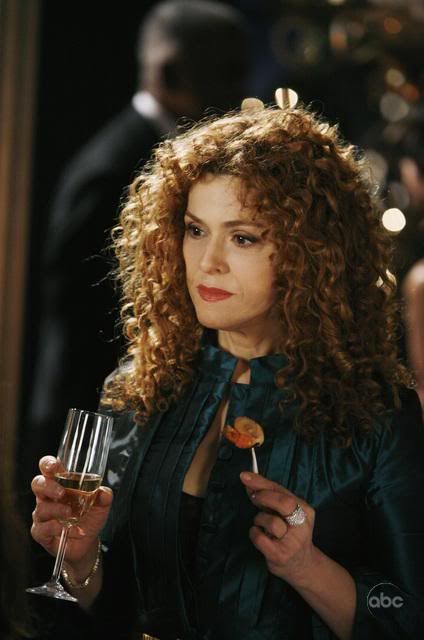 Word has it
that
Ugly Betty
is pulling out all kinds of stops for its first episode of 2009 with guest appearances by
Bernadette Peters
,
Zach Posen
and
Nikki Blonsky
.
Ugly Betty
returns on January 8th.
By Luke Kerr on December 11, 2008
The Golden Globe nominations were announced today and in the TV categories former daytime star
Kyra Sedgwick
has been nominated as Actress in a Drama along with
Brothers and Sisters'
Sally Field
. Also nominated, HBO's
True Blood
in the Television Series Drama category.
General Hospital's
Graham Shiels
appeared on
True Blood
several times this season.
On the comedy side of things former Ryan's Hope star Mary-Louise Parker took home a nomination for Weeds while America Ferrera was nominated for Ugly Betty and Debra Messing earned a nomination for The Starter Wife.
BEST MOTION PICTURE – DRAMA
The Curious Case of Benjamin Button
Frost/Nixon
The Reader
Revolutionary Road
Slumdog Millionaire
BEST PERFORMANCE BY AN ACTRESS IN A MOTION PICTURE – DRAMA
Anne Hathaway, Rachel Getting Married
Angelina Jolie, Changeling
Meryl Streep, Doubt
Kristin Scott Thomas, I've Loved You So Long
Kate Winslet, Revolutionary Road
BEST PERFORMANCE BY AN ACTOR IN A MOTION PICTURE – DRAMA
Leonardo DiCaprio, Revolutionary Road
Frank Langella, Frost/Nixon
Sean Penn, Milk
Brad Pitt, The Curious Case of Benjamin Button
Mickey Rourke, The Wrestler
BEST MOTION PICTURE – COMEDY OR MUSICAL
Burn After Reading
Happy-Go-Lucky
In Bruges
Mamma Mia!
Vicky Cristina Barcelona READ MORE