The Young and the Restless Daily Recaps
By Nicki on May 07, 2009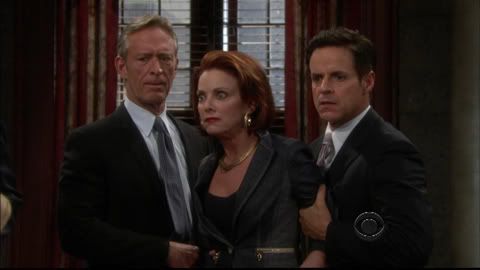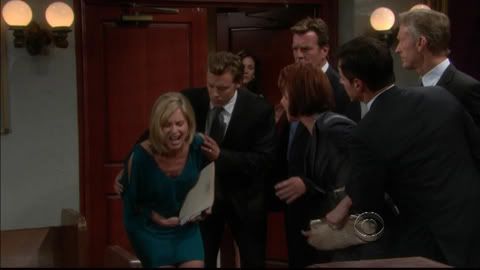 Today was the day for Trials and Tribulations on The Young and the Restless. The civil suit finally goes to court, Sharon once again deals with the fact that there are three possible daddies for her baby, and Adam moves his mysterious plan one more step in his direction.
The Trial: Gloria vs. The Abbotts
Michael joined Gloria and Jeffrey at Crimson Lights where they seemed unafraid and worry free about the upcoming civil trial happening later that day. Michael told them that this was very different than the criminal trial because reasonable doubt didn't matter. The only thing that mattered to the judge was what the evidence showed to be the most likely cause for the face cream debacle.
Once the trial started Ashley got on the stand and explained how not only did the situation cost the company in revenue but personally caused damage within her family. She told the judge how it caused such a rift between her and Jack that she moved to Hong Kong to put distance between them and how it took years to mend that rift. She also explained how her daughter Abby got ahold of the tainted cream and was burned when she put it on her skin.
READ MORE
By Nicki on May 06, 2009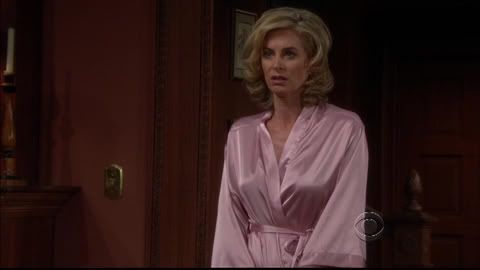 It's drama, drama, drama today on
The Young and the Restless
with a who's the daddy story heating up, a family who can't trust each other, and a triangle that's quickly turning into a trapezoid...Enjoy!
Sharon's Pregnancy Drama:
Jack was elated to hear the news that Sharon was pregnant. He admitted that he knew the baby could be Nick's but it didn't matter to him because either way he wanted to raise the baby with her. She tried to tell him there was more to the situation, such as her relationship with his baby brother, but Jack kept insisting nothing else mattered. Before she could get into things further Mary Jane and then Billy came in to talk to Jack about business so she said she needed to go home and rest and left.
After she was gone Mary Jane and Billy tried to talk to Jack about what they needed to do at Gloria's trial but Jack was too distracted and they noticed this. He told them he knew what he had to do and not to worry about it. Mary Jane told Jack to keep his night open just in case they needed to celebrate, which was an obvious come on that even Billy picked up on, but Jack said he may have other plans. Once Mary Jane was gone Billy asked him what was going on. Jack confided in him that Sharon was pregnant which left Billy with a look on his face like he got kicked in the gut. READ MORE
By Nicki on May 06, 2009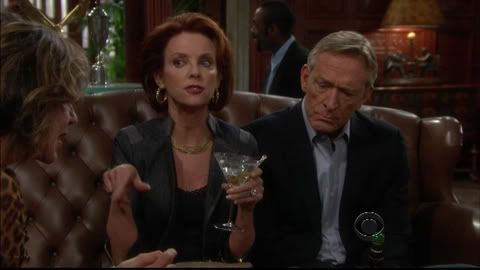 Today seemed to be the day for the residents of Genoa City to go on random quests. So let's see where they are headed....
Sharon's Quest for a Baby Daddy:
Step one: Sharon sat at the club and flashed back to finding out that she was pregnant and then to her trysts with the three possible baby daddys, Nick; Billy; and Jack. Her mom showed up and she confessed to her that she was pregnant. She asked Sharon if Jack was the daddy and her silence led her mom to believe she wasn't sure. She assumed that the only possibilities were Jack and Nick but Sharon confessed again that there was a third possibility. It's kind of like a deal or no deal game with the winner being behind doors numbered one, two, or three but the odds were in favor two to one that it would be an Abbott. Sharon's mom told her she needed to find out who the daddy was or the stress would eat her alive and trying to hide it wouldn't benefit anyone least of all the baby. Sharon said she was going to tell Nick first and if the baby was his as she hoped it would be then she would never have to tell Jack about Billy. On her way out to see Nick Sharon ran into daddy contestant number two, Billy, and they had an awkward conversation before she took off. READ MORE
By Nicki on May 05, 2009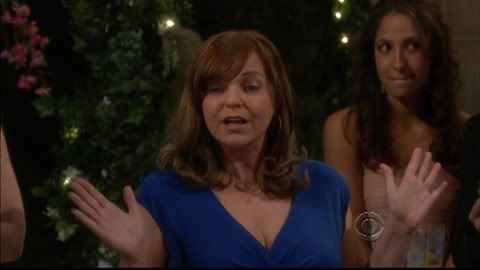 Katherine and Murphy's Wedding Along with Jill's Drunken Antics:
Ana sang while Katherine walked down the isle greeting all her friends and family along the way and looking like the beautiful duchess that she is.
Outside the mansion Nina busted a drunk Jill breaking into her own house. Brock officiated the ceremony and when he asked if anyone objected to the marriage Nina came crashing in and apologized for the disruption but looking like she'd just been in a scuffle. Lauren arrived late and found Jill tied up and gagged in the closet which was obviously the end result of the scuffle. Lauren unfortunately let her out and Jill crashed the ceremony in a drunken slur which I'm sure Luke enjoyed since he loves his drunken divas. She started to go off on Nina for tying her up as Lauren tried to control her. Cane finally got Jill to sit down while Murphy and Katherine exchanged vows. READ MORE
By Nicki on April 23, 2009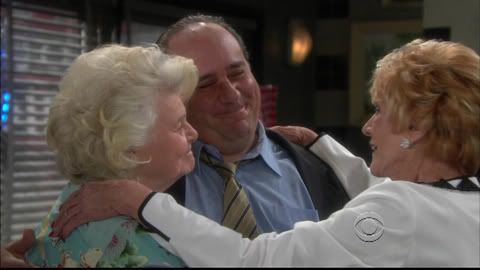 Ok after three tries and threatening to throw my computer against the wall if it didn't behave, I finally have your recap. Just so you guys know I am going out of town for my birthday on Saturday, so I won't be posting recaps again until Tuesday.
Katherine/Murphy/Mackenzie/Amber/Nikki/Paul/Michael/Gloria
At the diner Katherine, Murphy, Nikki, and Mac prepared for Marge's memorial. As Katherine was fighting with the flowers Amber showed up. Katherine asked her how her visit went with Kevin and she told her she felt she'd made some progress with him.
Katherine introduced Mackenzie and Amber and they were both excited to meet each other. They went to get a drink and Murphy came over to check on Katherine. She said she was doing great but was sad that Marge didn't get her happy ending that she deserved.
Katherine started the memorial and all of Marge's friends spoke of her fighting spirit and indominable determination. Katherine said that Marge saved her life and she'd miss thanking her for that as well as being her friend, her courage, and the memories she left behind. READ MORE
By Nicki on April 22, 2009
Today I'm coining the term Chucky Chipmunk Rodent Boy and I also have to admit that I actually wanted to put my foot through the TV right into Nick's head. When you get to the last paragraph of his conversation with Phyllis you'll see why. So enjoy!
Daniel/Amber/Kevin/Jana
Daniel asked Amber what she wanted to do for dinner and Amber freaked out saying she couldn't do this, just go back to work and act like everything was normal. Daniel asked her if she was still worried about Kevin and she said of course she was since he was locked away in a padded cell. Daniel told her that at least he was safe and she told him that in Kevin's mind he wasn't. She said that he had gone off the deep end and she almost brought him back but then Jeffrey came in and screwed everything up. She told him she was thinking of going and talking to the judge which Daniel thought was a horrible idea. She tried to press the matter and Daniel snapped asking her when she was going to stop obsessing over Kevin and think about herself.
READ MORE