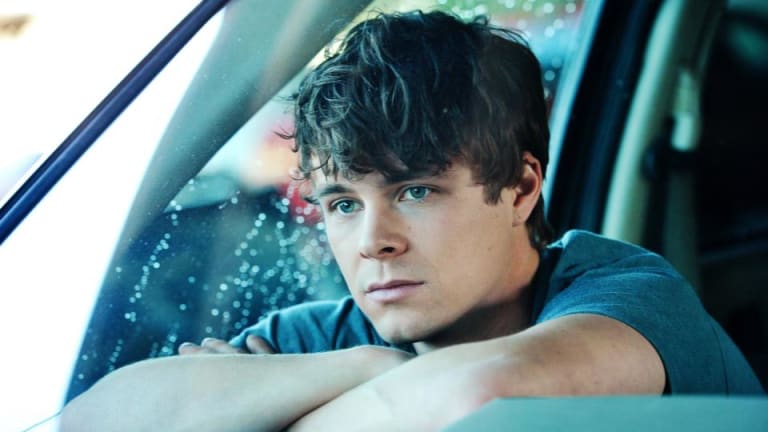 Interview: Riley Bodenstab on Being Days of Our Lives' Coed Bad Boy and Return to FX's Justified
Riley Bodenstab isn't a bad boy, but he plays one on Daytime TV.  The photogenic actor is making quite an impression as coed troublemaker Cole Hines on NBC's Days of Our Lives.
When he isn't coming between star-crossed lovers Paige Larson (True O'Brien) and JJ Deveraux (Casey Moss) on the soap opera, Bodenstab is busy booking plum primetime gigs. His second appearance as Derrick Waters on FX's hit drama Justified airs April 7. 
I recently caught up with the rising young star, who shared his thoughts on why he feels Cole is "misunderstood". He also revealed what it's been like establishing Salem Univeristy's collegiate gang alongside O'Brien and Moss and gave a tease regarding his return to Justified.
Daytime Confidential: Cole's budding relationship with Paige Larson (True O'Brien) is causing major headaches for his coed rival, JJ Deveraux (Casey Moss), on Days of Our Lives. What has it been like coming between Salem University's star-crossed lovers?
Riley Bodenstab: Cole's more sinister side would say it's been great to be the one to shake things up for JJ when he can. Deveraux has consistently made Cole's life miserable, and if it weren't for him, Cole wouldn't have had to go to jail or rehab. I don't think that's Cole's motive though, as he really has turned a new leaf since rehab. He just wants to get on with his life and focus his energy on Paige rather than getting back at JJ. That aside, as an actor, Cole has been a really fun character to play. I love diving into this kind of storyline with lots of layers and drama.
DC: JJ certainly sees Cole in a negative light, but it wasn't so long ago when JJ himself was the town's bad seed. Do you think Cole is getting a bum rap?
RB: Absolutely. I think he really is misunderstood and doesn't have any allies or friends to turn to. That's why Paige's friendship is ultimately the most important thing to him. He never dreamed she would have actually gone for him. I think he's a humble guy who ultimately didn't ever expect someone like Paige to go for him. In saying that, he's also no push over. Paige showing interest in Cole has really fueled his feelings for her. As we've seen a lot of on the show, Cole is not really an instigator. He's often been sucked into things that ended up getting him in trouble. I don't think he's a bad guy, rather that he grew up on the wrong side of the tracks, if you will. I think he's similar to many teens these days, where he would be better off going to a trade school, or learning a craft or skill, yet he is shoved into a box. Not everyone has the same learning style, and people who don't learn the same way as the majority can tend to get off track, as they only teach one way in school these days.
DC: Paige is so innocent and principled, but she loves her bad boys! Is there a chance Cole actually cares for her, or is he just pursuing her to stick it to JJ?
RB: Oh I think he absolutely cares for her. Cole knows Paige is smart, has a big heart and is gorgeous; as well as being the only one who would befriend him when he got out of rehab. I think for him, sticking it to JJ is just a bonus.
DC: DAYS has put a lot of focus on its college crowd this year, even debuting a new Salem U. rec center. What's it been like creating this new element of the soap with O'Brien, Moss and the rest of the soap's young adult crowd?
RB: It's been great. We all get along really well, and everyone is very supportive of each other behind the scenes. As for Cole, I think he feels like he doesn't really fit in though, so for his sake the only thing really keeping him around is that he has no other place to go. It's been fun seeing everyone learn and grow together. This is the first real acting job for a lot of the cast, and it certainly is my first real consistent work. It's fun to see everyone come into their own and become professional working actors together. I owe a lot to DAYS for starting my career and giving me a place to work for so long. It's been invaluable to really get used to being on national television while dealing with the pressure that comes with that. It's given me a lot of confidence in my other work, and to have the kind of experience working at that pace has been great. My first day on set, I was shocked at how fast they are able to shoot. It's a very well-oiled machine. In many ways it's more like theater, from an actor's side of it at least. You have to be ready to go fast, and there's a lot of material. So it's kind of trial by fire, and it forced me to step up my game just to keep up.
DC: I know DAYS tapes several months in advance and recently brought in a new team behind-the-scenes. Will we be seeing more of Cole in the future?
RB: Come on, Jamey  [Laughs]. You know I can't reveal any of that. Alright, what I can tell you is that Cole is a tenacious guy who wants to spend as much time as he can with Paige. What teenage guy wouldn't want to be around her! We will all just have to wait and see what happens with Cole. 
DC: Speaking of the future, you're also making a name for yourself in primetime. What can you share about your gig on Justified?
RB: It's great to be coming back on Justified. I love working with those guys. Since it hasn't aired yet, again, there's only so much I can talk about. But I will say working with the new cast on the show was a very fun and rewarding experience. Sam Elliot is such a great guy and such a legend. I can tell you that while we were filming, I was very excited to be able to try something I haven't been able to try on set before. You'll have to tune in to find out what. Although, there are a lot of things I haven't done yet, so that doesn't really give too much away!
i