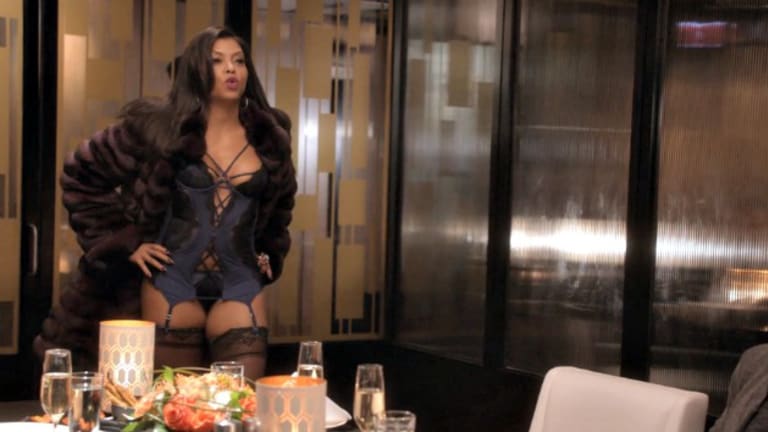 7 Lessons Soaps Can Re-Learn From Empire's Cookie & Co.
The Need For a Ruthless Son of a Bitch
Lucious Lyon (Terrance Howard) is an unapologetic bastard. This guy is a racist homophobe who let his wife spend 17 years in prison.
 A ruthless patriarch who will do anything he needs to protect what belongs to him is essential for a killer soap saga. Lucious is such an SOB, he shot his oldest friend in the head and then gave the eulogy at his funeral! 
Lucious reserves the majority of his cutthroat antics for his own children. He refused to take middle son Jamal (Jussie Smollett) seriously as a musician or mogul-in-training because he's gay. He was so intent on making youngest son Hakeem (Bryshere Gray) over in his own image, he banished his MILF girlfriend Camilla (Naomi Campbell) to London. As for eldest offspring Andre (Trai Byers), he denied both the young man's struggle with bipolar disorder and his white wife.
Daytime soaps once cornered the market on this type of scheming, Machiavellian character, however, relentless power barons are few and far between these days. The Young and the Restless still has Victor Newman (Eric Braeden), but his manipulations have become repetitive after 35 years. Days of Our Lives has reduced Stefano DiMera (Joseph Mascolo) to worrying about Chad's (Billy Flynn) sex life and Victor Kiriakis (John Aniston) has been domesticated. General Hospital's mob boss Sonny Corinthos (Maurice Benard), can be ruthless, but the Dimpled Don with the magic penis rarely loses and Port Charles' mob wars generally only count day players as causalities, so there isn't much jeopardy. The Bold and the Beautiful has Bill Spencer (Don Diamont), but he's more of a wise ass these days than a ruthless captain of industry.
Daytime needs a new generation of ruthless sons of a bitches. Adam Newman (Michael Muhney) was once such a character, but it's too early to tell whether Justin Hartley's version of the Newman black sheep will be heinous or a hero. Michael Quartermaine (Chad Duell) is showing potential, but he's still green. The Bold and the Beautiful's Rick (Jacob Young) started off the year in a ruthless mindset, but he's currently behaving like a petty, spoiled brat. The loss of EJ DiMera (James Scott) left Days of Our Lives without a viable male villain under the age of 70.
Sibling Rivalries
The relationship between Cookie and Lucious is the foundation of Empire, but the rivalry between their three sons is also an important part of the show's success. Each Lyon offspring tried to prove himself worthy of leading Empire Enterprises during Season 1. When the company was under siege following Anika's (Grace Gealey) defection, Andre, Jamal and Hakeem managed to put aside their differences to work together for the sake of the family. That is, of course, after one intense elevator scene.  
Today's soaps need better sibling rivalries. As it's been suggested on the Daytime Confidential podcast, General Hospital could easily create a corporate vs. mob rivalry by making Morgan (Bryan Craig) a true mafia prince and pitting him against Michael. 
Days of Our Lives' resident stepbrothers  Brady Black (Eric Martsolf) and Eric Brady (Greg Vaughan) were at their best when they were at odds over Kristen DiMera (Eileen Davidson) drugging and raping Eric. 
The Young and the Restless has the most opportunities to develop satisfying sibling rivalries. With Adam back in Genoa City, the soap can revive Adam vs. Nick (Joshua Morrow). 
Since Nick has no interest in corporate America, Adam could face off with big sister Victoria (Amelia Heinle) at Newman Enterprises, or even make a play for Jabot, the company his younger sister Abby (Melissa Ordway) does marketing for. 
Speaking of the Abbotts, Jack (Peter Bergman) vs. Ashley (Eileen Davidson) has been a feud that's driven story for 30 years. Maybe it's time to revisit it?
The Bold and the Beautiful has Rick vs. Ridge (Thorsten Kaye), but their rivalry has devolved into silly sniping. Liam (Scott Clifton) and Wyatt's (Darren Brooks) rivalry has faded, which is a good thing. No one wants to see them fighting over a woman again.
Characters on the Come Up
Today's soap operas rarely tell rags-to-riches storylines anymore, which is odd since they've always been insanely popular with the genre's fans.
 Erica Kane (Susan Lucci) fought her way to the top of Pine Valley society on All My Children. Brooke Logan (Katherine Kelly Lang) was the "Slut from the Valley" who married her way into the Forrester family several times over and, for a time, even helmed their iconic fashion house. Passions' entire premise centered on Theresa Lopez-Fitzgerald (Lindsay Hartley) going from the maid's daughter to the queen of Harmony.
The only rags-to-riches story being told in daytime currently features The Bold and the Beautiful's epic evolution of its Black Erica Kane, Maya Avant (Karla Mosley). A character who was recently revealed to be transgender.
Empire has built its fantastic world on two basic premises — the rivalry to take over the hip hop empire Lucious Lyon built and Cookie's fight to reclaim the company she helped found. One of the reasons fans are so invested in Empire is because they love Cookie and her struggle to get her piece of the pie. Daytime soaps need an injection of fresh-faced schemers fighting their way to the top.
Twisted Relationships
Today's daytime soap operas feature a slew of twisted characters, especially on General Hospital. However, very few soaps actually feature characters in depraved relationships. 
Days of Our Lives' EJ (James Scott) and Sami (Alison Sweeney) were daytime's last great twisted couple. The genre needs more like them.
In the first two episodes of Empire, Andre Lyon (Trai Byers) came across as a straight-laced bore who was being manipulated by his wife Rhonda (Kaitlin Doubleday). Empire blew up those perceptions when Andre returned home from having sex with the deputy mayor and Rhonda confronted him. Instead of his cheating becoming an issue in their marriage, it was a turn on for her!
Today's soaps are often too afraid to break couples, or let them screw around. Forget about adding a little kink. (B&B's Deacon and Quinn being a rare exception to the latter rule!)
If Cane Ashby (Daniel Goddard) cheated on Lily (Christel Khalil) on Y&R, Television City would have to be declared a no-fly-zone due to all the planes, blimps and helicopters fans would charter. 
The only delightfully-twisted relationship on Days of Our Lives features JJ Deveraux (Casey Moss) banging Eve Donovan (Kassie DePaiva)—the mother of his coed ex-girlfriend—and their story is suffering. 
 General Hospital has a love story featuring fellow psychopaths Franco (Roger Howarth) and Nina (Michelle Stafford), but where exactly can they take it once those two leave treatment?
Daytime needs more couples like Roger (Michael Zaslow) and Holly (Maureen Garrett) from Guiding Light and Alan (Stuart Damon) and Monica (Leslie Charleson) from GH.
Cougars Sinking Their Claws Into Younger Men
Empire rolled out a raunchy cougar storyline involving super model Naomi Campbell as Hakeem's (Bryshere Gray) much older lover Camilla. The fashion designer took advantage of Hakeem's mommy issues in order to groom him to be the man she needed him to be, both in the bedroom and the boardroom. 
Cougar storylines have long been a staple for daytime, but for some reason they always get scrapped. Fans couldn't get enough of General Hospital's Ava (Maura West) and Morgan (Bryan Craig), so of course the red-hot couple was broken up and put with more age appropriate (read: boring) scene partners.
 The same thing happened a few years back with Casey (Billy Magnussen) and Emily (Kelley Menighan-Hensley) on the now defunct CBS soap As The World Turns. Tom and Margo Hughes' son bedding Tom's ex-mistress was one of the soap's last great stories. Putting the kibosh on stories fans actually enjoy doesn't help soaps stay on the air.
Epic Female Rivalries
Cookie vs. Boo Boo Kitty was everything during Season 1 of Empire. From the moment Cookie saw pictures of Empire's A&R head on Lucious's desk, she had it in for the "fake ass Halle Berry" he replaced her with.
The feeling of animosity was mutual for Anika. She spied on, plotted against and tried to educate Cookie about debutantes all season. Cookie proved she didn't need to come out at a cotillion to handle her foe. Ms. Lyon outed Boo Boo Kitty for conspiring with Lucious's arch nemesis!  Then, in the season finale, the two women finally came to blows in a catfight worth of Dynasty's Alexis (Joan Collins) and Krystle.
High stakes female rivalries were once the bread and butter of daytime soaps. Iris (Beverlee McKinsey) vs. Rachel (Victoria Wyndham) on Another World, Viki (Erika Slezak) vs. Dorian (Robin Strasser) on One Life to Live, Erica (Susan Lucci) vs. Brooke (Julia Barr), Kay (Jeanne Cooper) vs. Jill (Jess Walton) on The Young and the Restless, Brooke (Katherine Kelly Lang) vs. Stephanie (Susan Flannery) on The Bold and the Beautiful, the list of classic soap female rivalries goes on and on.
Some of my favorite more modern battles took place between Kendall (Alicia Minshew) and Greenlee (Rebecca Budig) on All My Children, Carly (Maura West) and Barbara (Colleen Zenk) on As the World Turns and Kate (Lauren Koslow) and Sami (Alison Sweeney) on DAYS. 
Today's female rivalries are pale imitations of those from the 70's, 80's and 90s'. DAYS' feuds revolving around Serena (Melissa Archer) vs. Nicole (Arianne Zucker) and Theresa vs. Melanie (Molly Burnett) are pathetic and forced. 
 Ashley Abbott (Eileen Davidson) is standing on the sidelines, while Christine (Lauralee Bell) battles the chemist's old foe Nikki Newman (Melody Thomas Scott). We won't even talk about the bad B movie that is Kelly (Cady McClain) vs. Phyllis (Gina Tognoni).
Lily (Christel Khalil) vs. Hilary (Michael Morgan) has potential, but they don't play the beats. Before Lily could so much as grab Hilary's hair for cheating on her dad with her brother, the women were dealing with a plane crash and a drunken car accident.
 Female rivalries on General Hospital are floundering. Sam (Kelly Monaco) and Liz (Rebecca Herbst) are polite frenemies who don't even raise their voices during a disagreement. Both Carly (Laura Wright) and Nina (Michelle Stafford) loathe Ava (Maura West), but the platinum mob princess is presumed dead. 
Hopefully, The Bold and the Beautiful's Maya (Karla Mosley) vs. Caroline (Linsey Godfrey) will resume when Godfrey returns from recovering from her real-life injuries. If Caroline finding out Maya is transgender doesn't ramp up female feuds in daytime, nothing will!
Bling
The moment Cookie got out of jail, her gay son Jamal took her on a shopping spree. He stocked his mama up with furs, slinky dresses, fancy shoes, weave and loads and loads of bling.
Cookie isn't alone. Camilla and Boo Boo Kitty are no slouches when it comes to glitz.  Heck, even the guys are always dressed to the nines and sporting expensive watches, chains and the like.
The Bold and the Beautiful is still glamorous, but could use more ice. I'm sure Quinn Fuller (Rena Sofer) could come up with something if she stops obsessing over Deacon (Sean Kanan) and Brooke.  
Days of Our Lives, General Hospital and The Young and the Restless all need to cut their cast sizes and use some of the saved money on a shopping sprees to glam up their core stars, sets and wardrobes.
One of the four daytime soaps should hire DeVanity and Winterthorne creator Michael Caruso as a consultant. The women of DeVanity looked more glamorous in their four seasons than any soap in daytime has in years. The bonus is he's proven himself as an innovative and imaginative budget wizard.  If Empire proved nothing else, it's that Daytime needs to sparkle again. 
What are some of the things you feel daytime soaps could learn (or re-learn) from Empire and other primetime dramas? Sound off in the comments!