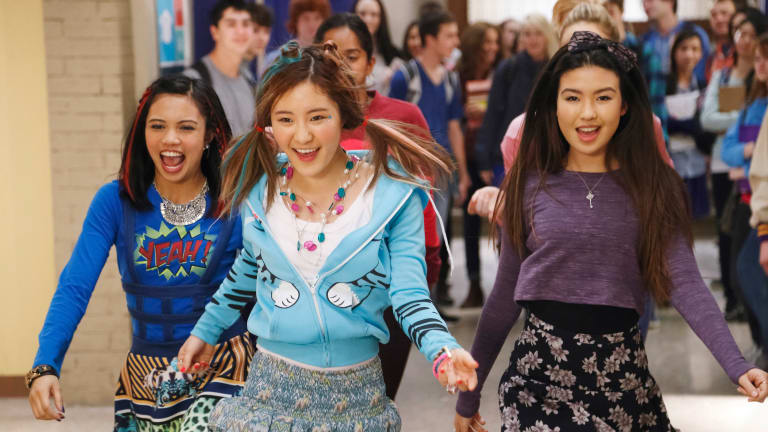 Former General Hospital Writer Karen Harris Dishes Working on Nickelodeon's Make It Pop (Exclusive)
Prolific soap opera writer Karen Harris hasn't stopped working since leaving General Hospital in 2011. Harris, who also wrote for General Hospital: Night Shift, Port Charles and All My Children, has been developing Part of The Plan, a musical based on Dan Fogelberg's song catalog with Kate Atkinson for the past three years. Now she's diving into the world of scripted musical comedy for Nickelodeon.
Harris serves as a creative consultant for Make It Pop, Nick's upcoming daily serialized comedy from creators Thomas W. Lynch and Nick Cannon.  I recently got Harris to dish about making the transition from soaps to serialized tween laffers. 
Daytime Confidential: I hear you've been busy getting into the wild and wacky world of K-Pop! How did a veteran daytime and primetime drama writer come to be involved in Nickelodeon's new comedy series, Make It Pop?
Karen Harris: First of all, I want to be clear. K-Pop is a very specific type of music. The music on Make it Pop was K-Pop influenced. This show respects the K-Pop world but embraces its own aesthetic.  
That said, how did I get involved? There's a very creative, successful, prolific writer/producer named Tom Lynch who has created some wonderful shows over the years, shows like South of Nowhere, The Journey of Allen Strange and The Secret World of Alex Mack. He has great comedy chops, and it's amazing to watch him create, coming up with the craziest, funniest stuff. So when he and Nick Cannon sold a sitcom to Nickelodeon and Y-TV in Canada, and the network decided they loved it, they wanted to turn it into a five-night-a-week telenovela over four weeks, Tommy knew that it was a different creative muscle than what he was used to. He, thank goodness, decided to find someone with experience in serialized storytelling to work with him. So technically speaking, my agent introduced us. But I think it was destiny. I had the joy—and occasional nervous breakdown—of running the writers' room in Los Angeles. That's where we broke all the stories, laid out all 20 episodes, and oversaw a primarily Canadian scriptwriting team. The show was shot in Toronto. After working on my musical for over three years, it was a blast to be a sort of midwife for the birth of a new TV show. 
DC: Make It Pop centers on three very different girls — aspiring diva Sun Hi (Megan Lee), junior style maven Jodi (Louriza Tronco) and studious Corki (Erika Tham) — who end up rooming together at boarding school and eventually forming K-Pop group XO-IQ. Did you draw from any of your experiences writing young adult drama queens like General Hospital's Maxie Jones and Lulu Spencer? 
KH: Yes, yes, yes. Maxie and Lulu and Georgie and Lucky and Emily…they all helped me tap into the 13 year-old girl who lives inside me, inside all of us. I think the benefit of my General Hospital experience is that I got to dig into the angst and the day-to-day problems of a kid in an adult world. Make it Pop exists in the girls' world, although there's plenty of conflict as they try to figure out how to be independent. These girls are all at that age where they're figuring out who they are. Each one is so distinct. Sun Hi is a new media diva who has visions of stardom, no doubt a result of never getting enough attention growing up in a large family. Corki is from Korea, a sheltered rich girl, sent to boarding school to prepare for Ivy League College. She takes pride in her intelligence, but also learns to get in touch with her fun side. Jodi is a free spirit, artistic and unique. Each of the girls is quirky, and has a quality that helps the others become better young women. Tommy used to say "I'll bring the funny, you bring the heart." I learned pretty quickly that he's got plenty of heart! It was a great collaboration. When production started, they had all 20 scripts in hand. Of course there would be more polishing and rewriting as they went through the process, but we all knew there was a strong foundation of story and character to start them out. And Tommy was able to realize his vision in a remarkable way,  with a lot of help from the production and writing team in Canada. 
DC: Make It Pop will feature original songs and performances from XO-IQ. Do you think we'll see tracks from the show climbing the iTunes charts ala Fox's musical soap Empire and ABC's Nashville? 
KH: Nashville! How much do we love Jonathan Jackson and how far he's come? So great to see him get to do his music! And I love that Empire is a hit. It's about time!  
Okay, back to Make it Pop. The music on the show really does pop! It's feel-good, girl power energy, with an EDM vibe. Very catchy. Each episode features two songs as musical performances. One is a sort of "fantasy" number that spotlights whatever their current dilemma is.  The other is a "concert" type performance, but still related to the story at hand. The three girls are so talented. The look of the numbers is off-the-charts, colorful and fun and energetic. We had an amazing team of music writers and producers who really brought it. You know, there's a whole movement out of Sweden that's creating music for the likes of Kesha, Taylor Swift, Katy Perry, Maroon Five, etc. We've tapped into some of those Swedish hitmakers for Make it Pop. There's a song I've already fallen in love with, "Party Tonight". 
Every song was written specifically to support what the characters are going through in that episode, and doing it in a way that's organic and so much fun. I promise you, you'll be hearing these songs on the radio. All the music will be released and available on Spotify, iTunes, etc. And what I love is that these girls have become a totally legitimate group, XO-IQ. They have a manager now, the same management company that handles artists like Jason Mraz. It's amazing to see how they've blossomed and embraced their talent because of their experience on Make it Pop. 
Another thing, the show was originally tailored for 'tweens and teens, like the characters in the show. But what's so exciting is that the quality of the production and the music make it a show that parents and siblings can watch, too, and find it totally engaging. 
If you take a look at the show's website and the band's website, you'll see what I mean. I love these girls, their energy and their outrageousness, as well as their spirit. I hope if we get to do a Season Two, we'll really see them grow and take their friendship and their lives to the next level. 
DC: Nickelodeon has had quite a bit of success with serialized tween and teen content. They aired several seasons of Degrassi: The Next Generation in telenovela-style arcs. Mystery series House of Anubis was serialized, as was Hollywood Heights. Do you think these kinds of projects might be a place for former daytime writers, displaced by rampant cancellations, to find work?  
KH: This is one of the reasons I was so excited about Make it Pop. Nick seems to be embracing the telenovela format with 20 episode arcs. It's like a month-long book, with each week being a new chapter and all driving to the big climax! It's such fun to write. They're airing our show every weeknight at 7pm for the whole month of April. I mean, what a cool idea. But it's up to the audience to support it. 
 For years, kids only had their moms' soap operas to watch. Now there are shows for and about them and their lives and their fantasies. If they watch it, and love it, I have no doubt there will be more coming, whether it's more adventures in the lives of the girls of Make it Pop, or other original stories created just for this audience. And you know, Jamey, it's been a real focus of mine to help keep soaps alive. The same way I was asked to bring my daytime experience to the Make it Pop team, I am ever hopeful that many of the talented, creative daytime writers who love serialized storytelling will find work at networks like Nick, or any number of cable outlets who recognize that viewers are clamoring for what we do. Wouldn't it be something, with these shows on Nickelodeon, if we're raising a whole new generation of soap addicts? 
 Make It Pop premieres April  6 at 7 pm EST on Nickelodeon.