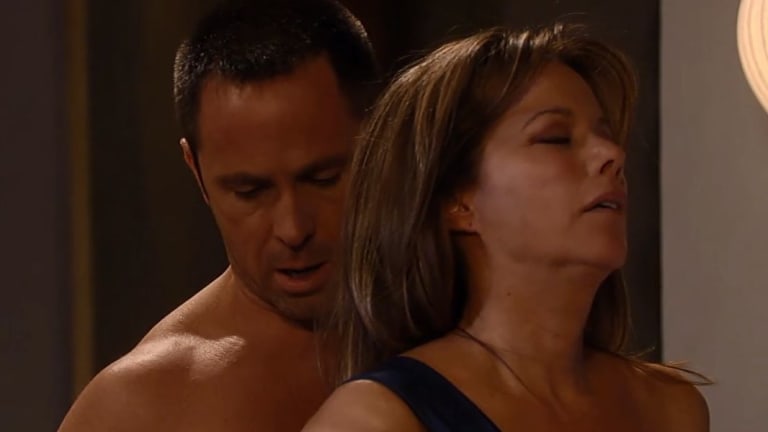 10 Ways to Fix General Hospital's Female Viewership Problem
I hate seeing General Hospital continue to struggle in the Nielsen's key female demos.  Executive producer Frank Valentini and head writer Ron Carlivati saved this soap from cancellation a few years back by bringing on beloved vets and shifting the focus from years of unrelenting mob wars. 
Over the past six months, however, mob tales have come roaring back and supervillains are running amuck. While I maintain GH continues to be the most consistently entertaining daytime soap for this blogger, there are a few things that need work. 
1.) Scale Back on the Mob Wars
I was a card-carrying superfan of Bob Guza's mob wars on General Hospital. Ruthless organized criminals like Luis and Lorenzo Alcazar (Ted King), Faith Roscoe (Cynthia Preston) and Manny Ruiz (Robert LaSardo) kept me tuning in for Guza's Sopranos-lite antics.
Unfortunately, mob tales are not the strong suit of the current regime. Julian Jerome (William deVry) and Duke Lavery (Ian Buchanan) are laughable as gentlemen mob rivals. The dancing gangsters in Michael Jackson's "Beat It" video were more menacing. Either refocus the mob story on the two believably-lethal mafiosos in town, Sonny Corinthos (Maurice Benard) and Ava Jerome (Maura West), or scrap the story element all together. 
2.) Ditch Ava's Cancer Arc
Ava Jerome is without a doubt the best character created during Cartini's tenure. The murderous blonde femme fatale, who's desperate love for her children is only matched by her unquenchable desire for power, is like no other character on daytime. So why is portrayer West stuck acting out Ali McGraw's lines from Love Story with Ryan O'Neal stand-in Michael Easton (Silas)?
Ava needs a miracle cure, STAT. Then get her back in action with the Corinthos men. She's already bedded both Sonny and Morgan (Bryan Craig). Why can't she use her feminine wiles on Michael (an increasingly-impressive Chad Duell) to regain custody of her daughter? Better yet, what if she returned to Port Charles and promptly entered into a marriage of inconvenience with Sonny in order to give off the appearance of the deadly duo being suitable parents for Baby Avery?
3.) Put Anna Devane and Jordan Ashford Front and Center
The most intriguing characters in Port Charles' latest mob war are federal agents Anna Devane (Finola Hughes) and Jordan Ashford (Vinessa Antoine). Here's a thought: why not actually let the good guys, er, gals, succeed in completely dismantling one or more of the Eastern Seaboard's notorious crime families?
Once the mob drama dies down, Anna and Jordan could tackle a myriad of other types of criminal activity in Port Charles. Prince Nikolas Cassadine (Tyler Christopher) has embraced his family's notorious dark side. Perhaps Jordan's next case could be staying on top of him, or up under him. Take your pick! 
Maybe Anna's old foe Liesl Obrecht (Kathleen Gati) is using the hospital as a multi-million dollar front to sell ADD medicine to college students across the country? Anna must still desire to take this woman down, after all the havoc Obrecht brought to her life!
 Anna seems slated for a romance with corrupt cop Sloan. I can get on board with that—especially now that someone cut Grayson McCouch's hair—but I need to see the story play out at least three days a week to fully invest.
4.) Bring Back Aspirational Fashionista Maxie Jones
For the past few years, Maxie Jones (Kirsten Storms) has existed as the center of one love triangle after another, that is when she wasn't running a high stakes baby scam on her best friends. Remember when she wanted to be the next Anna Wintour? I do.
Maxie needs to remember her dreams of a high fashion career. There's more to life than constantly deciding between boyfriends and burping babies. Women Maxie and Lulu's (Emme Rylan) age are being encouraged to Lean In by Facebook COO Sheryl Sandberg. I'm not saying every female 20-something character on a soap needs to be attempting to build a media empire, but her love for fashion bibles Crimson and Couture was a beloved part of Maxie's characterization. 
5.) Write Something, Anything, For The Teens
Alexis Davis (Nancy Lee Grahn) deserves mad props. She's getting more dick than any of her daughters! While it's awesome to see the legal eagle experiencing a red-hot romance with mobster Julian Jerome in her 50's, it's kind of pathetic that her teenage daughter Molly (Haley Pullos) doesn't have a life, or a storyline of her own.
Given the age of the actress, I realize Molly can't be hot and heavy with boyfriend TJ (Tequan Richmond). However, there's a lot more the youngsters could be doing besides gossiping about their parents' love lives. 
Why don't we ever see TJ mixing it up with the college crowd at the university? He should be making Molly jealous by cramming with nubile young coed, while she's still stuck matriculating at Port Charles High. 
What happened to Molly's budding writing career? She should be crushing on a sexy (and possibly pervy) grad student who's teaching a creative writing seminar she begged Alexis to let her take. 
Maybe it's time to bring back Dillon Hornsby Quartermaine? He could option the rights to Molly's novel Main Squeeze with plans to turn it into a feature film, much to TJ's dismay.  Whatever the storyline may be, just give these kids something to do!
6.) Hand Bryan Craig and Morgan Corinthos The Keys to The Kingdom
A good year before the Lyon brothers were battling for their father's throne on Fox's hit soap opera Empire, General Hospital's Morgan Corinthos (Bryan Craig) was proving to be a worthy heir apparent to Sonny.
What a difference a TV season makes. Currently, the erotic, angry, younger brother of Michael and Dante (Dominic Zamprogna) is stuck in the minor leagues babysitting a recast.  On what planet is it not clear that Craig is the future of this show? Give this guy something meaty to sink his teeth into before he books an ABC Family or The CW pilot, and we end up having to say we watched him on daytime when.
7.) Ground Franco and Nina Clay in Some Semblance of Reality
As fun as it was to watch Nina (the incredible Michelle Stafford) go bonkers in Port Charles last year, if she's going to have long term viability, she has to embrace some semblance of sanity. I'm okay with Franco staying cuckoo for Cocoa Puffs, because Roger Howarth has figured out a way to make that shtick work for him. However, if Nina and Franco's antics keep causing them to end up back in Shadybrook, it could begin to feel a bit farcical. 
I'd rather see them become akin to the Gruesome Twosome on The O.C., or Keith Timmons (Justin Deas) and Gina Capwell (Robin Mattson) on Santa Barbara — a pair of shameless, amoral sex fiends who find less over-the-top ways to terrorize their foes. Having them blackmail Olivia (Lisa LoCicero) about her baby's paternity is definitely a good start.
Next, I'd love to see Ava return to Port Charles thinking she is going to pick up where she left off at her gallery, only to learn Nina (now having access to her fortune) has bought the business for Franco!
8.) When In Doubt, Bring Back Genie Francis, Vanessa Marcil and Kimberly McCullough
No offense to Rebecca Budig, but we already know who this soap's No. 1, 2 and 3 promo-worthy stunners are. GH fans never grow tired of wanting the returns of Laura Spencer (Genie Francis), Dr. Robin Scorpio (Kimberly McCullough) and Brenda Barrett (Vanessa Marcil). 
I realize McCullough left the show of her own accord to direct; and it isn't always easy to negotiate deals for Francis and Marcil to return. But even if it's just for the occasional guest spots, these ladies are who keep the audience for this show excited.
9.) Let Someone Other Than Julexis Get Laid
As I mentioned above, Alexis's milkshake brings all the boys to the yard, and that is fantastic. But can some other characters get a hot love scene or two?
It was criminal how long it took Detective Nathan West (Ryan Paevey) to get some booty on this soap opera. He should be sliding up and down Maxie's willing thighs at least twice a week. Ditto for Shawn (Sean Blakemore) and Jordan. A little lust in the afternoon goes a long way!
10.) Reveal Jake is Really Jason and Get The Party Started
I wanted to punch my TV when Hayden showed up on Elizabeth's (Rebecca Herbst) doorstep five seconds after she and "Jake" (Billy Miller) declared their feelings for one another. No, not because I was so excited about Liason 2.0, or "Lake" as some fans are calling them. Because I realized this whole fake wife plot would mean the "Jake is Jason" reveal would be prolonged.
I totally get the principle of making fans wait, but it's time for Liz, Sam (Kelly Monaco), Carly (Laura Wright), Michael (Chad Duell) and Spinelli (Bradford Anderson) to learn The Borg is alive. As for the two people who loved him most—Jason's mobster soul mate Sonny and his adoptive mother Monica (Leslie Charleson)—Jason being alive would lead to so many explosive emotions for them! 
Sonny killed Monica's other son, AJ (Sean Kanan). Will she and Michael stand by and let the Dimpled Don lure another Q back into the Corinthos fold? I'm sure Cartini has a carefully constructed plan concerning this reveal, but with the ratings in free fall, it might be time to hit fast-forward on this surefire story climax.