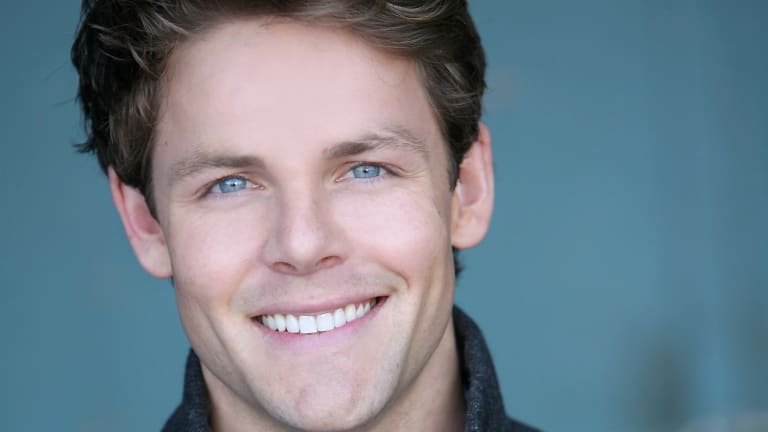 INTERVIEW: Y&R's Lachlan Buchanan on The Abbotts, Serial Killers and Summer No Longer Being "Forbidden Fruit"
Someone is marking the significant others of young Newmans and Abbotts for death on CBS Daytime's The Young and the Restless. Could sexy, mysterious Kyle Abbott actually be a serial killer? Lachlan Buchanan isn't spoiling the deets, but he does cop to having fun stirring things up a bit!
I caught up with the Aussie transplant to dish him joining the No. 1 soap in daytime, just in time for a front burner murder mystery. The actor reveals what it's been like working with fellow TV Abbotts Peter Bergman (Jack), Eileen Davidson (Ashley), Burgess Jenkins (Billy) and Melissa Ordway (Abby). He also chats about hanging with his new cast and crew mates during their downtime and the positive impact it has on their work.
Then Buchanan teases a major turning point this week in the relationship between Kyle Abbott and Summer Newman (Hunter King). Is it true love between Genoa City's version of Romeo and Juliet? Buchanan seems to think so.
Daytime Confidential: You've been a big part of reinventing the Abbotts on CBS Daytime's The Young and the Restless. How are you settling in as mysterious cosmetics scion Kyle?
Lachlan Buchanan: I feel like I've settled in very quickly, thanks largely to how amazing and wonderful the cast and crew have been. I've definitely been getting the usual hazing, locking myself out of my dressing room, getting used to the schedule, but otherwise I've been made to feel like a part of the family very quickly. Playing Kyle is an absolute joy so far! It's definitely a mystery to me where he's headed in the future, but I look forward to every step of the way.
DC: Kyle hasn't had much opportunity to help his dad, aunt and uncles market any lipstick since returning to town. He's been too busy using it to write threatening messages on Sharon Newman's (Sharon Case) mirror! The guy had to know pulling a stunt like that was going to make him look guilty of Austin's (Matthew Atkinson) murder and trying to gaslight his frenemies,right?
LB: Agreed. Kyle is an Abbott and will make rash and passionate decisions from time to time. His desire to care for Summer can also blind him from logic and his surroundings. All that aside, isn't it so much more fun to stir things up a little bit?
DC: Summer is the one person certain of Kyle's innocence. You're the third actor to play an adult Kyle opposite King. What has it been like trying to reestablish the characters' star-crossed connection amid a murder mystery?
LB: Hunter is such a joy and so much fun to play opposite to. The fact that she's a really gifted actress makes it easy to have a connection with her. We got along well from the moment we first met, so that definitely helps. When it comes to the murder mystery, I think that dramatic circumstances can pull people closer together, so Kyle and Summer finding comfort in one another so swiftly isn't too crazy. It's been loads of fun learning all of Kyle's past history and coming in during such an intense time and figuring out what is going on as a group.
DC: Summer's brother Noah (Robert Adamson) is convinced Kyle has something to hide. Do you think Noah's animosity towards Kyle is rooted in their brief rivalry when both young men worked at Newman Enterprises?
LB: That is definitely part of it. They are from rival families and there has never been a shortage of ego in the Abbott and Newman men. They pose a threat to one another in more ways than one. Noah is also very protective of his sister, so the fact that Kyle has come back with obvious intent to get close to Summer is also very troubling for Noah.
DC: Y&R seems to be laying the groundwork for a new generation of the Newman/Abbott feud. Are you, Adamson, King, Camryn Grimes (Mariah) and Melissa Ordway (Abby) prepared to represent during the next chapter in the saga of these dueling dynasties?
LB: Definitely! That was one of the most exciting things about taking this role — that our generation can pull the families closer together and show their strengths and help lead the show into the future. As a group, we have such a brilliant time together both socially and creatively that we are thrilled to get to work with each other a lot and share the growth of our characters together.
DC: You're lucky in that you have access to Peter Bergman (Jack) and Eileen Davidson (Ashley), who've both played Abbotts for decades. Have they helped you keep all the players and history straight?
LB: I'm very lucky to get to work with Peter and Eileen. They are both so dedicated and such kind and giving people. Peter in particular certainly keeps me on track with where scenes are going and the relationships between people I might not be too familiar with. They definitely make my job easier!
DC: Have you and Burgess Jenkins, who plays Billy, bonded over being relative newcomers to the Abbott fold?
LB: If by bonded you mean was he relieved to not be the "new guy" anymore? Then yes. Burgess is a great actor and a very cool guy. I see him more as a brother than "Uncle Billy", but what can ya do?
DC: In real life, you grew up as part of a big family in Australia. Does the experience of being one of five siblings come in handy when adjusting to life as part of such a large, ensemble cast?
LB: Five and a half, actually! Most definitely. The cast has really become like family in such a short space of time, which is lovely considering the rest of my siblings are all back in Australia. They've become my all-American surrogate siblings.
DC: You, your cast mates and crew members don't seem to race off in opposite directions when the director yells "Cut!" Judging from your Instagram accounts and Twitter profiles, you guys and gals spend a lot of time together off screen. Tell me about that epic paintball battle I saw pics of all over the net!
LB: As I said earlier, we have so much fun together and everyone is really close. They brought me into the group and their lives so quickly and I've been really lucky. It doesn't feel like work to me, seeing and working with these people every day. Paintball was the brainchild of me and Hunter King, who couldn't make it to this battle, sadly! Doing things like that help bring everyone closer together and keep morale up and give us even more history to enjoy. I will say that my team won the most and cheated the least, but the other guys did a great job out there!
DC: Back to Kyle and Summer. This big benefit Jack insists Kyle attend will prove a turning point for the couple. What can you say about Kyle's emotional state leading up to the fundraiser?
LB: At this point, Kyle is head over heels for Summer and has really become a self-appointed guardian to Summer. He feels very protective of her, whilst also being in love with her. At the same time, he doesn't have the focus or energy to be like his father at Jabot, so he is very resistant to following Jack's wishes. Kyle's main focus, and main reason for coming back to GC, is Summer, and with everything that is going on he's stuck in this weird in-love, protective, suspicious, paranoid, short-fused place.
DC: After the party, Kyle and Summer get closer than ever before! Is he taking advantage of a grieving, trusting young widow, or does Kyle truly love Summer?
LB: Kyle truly does love Summer. He's been there and done that with the party scene, slept around. He has nothing to gain by taking advantage of her, and that's not his style. Summer offers stability and focus for Kyle; two things he loves. They were so close before he left, and now that she's not the forbidden fruit, there's a whole new world of possibility for him with her.
DC: As romantic as Kyle and Summer consummating their affections may be, there's still a killer on the loose. Now that they're copulating, how will that change the dynamic among the Cabin Crew as they try to suss out the murderer?
LB: I think that it only complicates the whole situation more. On one had, Kyle now feels more protective and determined to catch the killer, while on the other it makes him more suspicious to people like Mariah and Noah because of how quickly he has scooped Summer up after Austin's death.