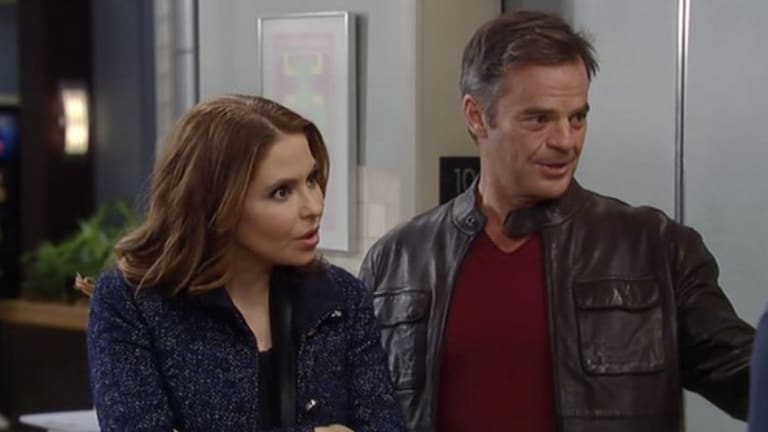 Ratings, Rants and Raves: As The CBS Soaps Spike, It's Time For Some Tough Love For General Hospital
Chuck Pratt's decidedly zanier version of CBS Daytime's The Young and the Restless is proving to be a hit in the Nielsens, according to ratings data posted by Soap Opera Network. Daytime's top soap gained a Herculean 327,000 total viewers over the previous week for the April 6-10 ratings. Y&R was up an even more impressive 580,000 over the same ratings period last year. 
More than five million people tuned in to Y&R the week in question. The soap also saw increases in households and across the board in the key female demos. If Pratt keeps this up, he'll get an All My Doppelgangers spin-off in no time.
The Bold and the Beautiful went up 173,000 total viewers over the previous week. The 30-minute sudser was up 389,000 over the same time period last year. Like its big sister soap, B&B boasted gains in all key demos.
B&B is easily in the best creative shape of the four daytime soaps. While its soap peers are relying on outdated tropes, the serial's groundbreaking transgender arc continues to provide compelling drama day after day.  The Brooke/Deacon/Quinn triangle is also offering a fresh spin on a tried and true format, though I'd have been okay if my Logan (Katherine Kelly Lang) didn't have to become an alcoholic to accomplish that.
Now for a dose of cod liver oil. Both Days of Our Lives and General Hospital—soaps generally known for excelling at their understanding of providing sheer entertainment value in daytime—continue to post problematic numbers in the Nielsens.
While DAYS was up in total viewers (+ 68,000), households and in the key demos over the previous week, the NBC soap still only managed to tie its all-time low ratings among women 18-34 and women 18-49. 
GH was the only daytime soap on the dial to fall in total viewers for the week in question. The ABC sudser fell by 126,000, but was up over the same week last year (+109,000). GH dipped in households, among W18-49 (tying its all-time low) and among W25-54. The soap spiked among W18-34.
Since DAYS tapes so far ahead, there's really nothing addressing concerns about what's currently airing on screen can accomplish. As for GH... 
Not too long ago, I published a column on how GH can get its numbers up. Allow me to expand. While I love humorous, over-the-top jaunts on my stories, this soap needs to inject a healthy dose of cohesion and character-driven plausibility. 
 I'm not buying the ELQ caper one bit. On what planet do billionaires give up blocks of stock in a multi-national corporation all willy nilly? 
It was one thing to suspend disbelief over Tracy (Jane Elliot) handing over her shares to the Port Charles Legion of Doom to "save" Luke (Anthony Geary). Now Ned (Wally Kurth) is allowing himself to be blackmailed out of his stake because he's crushing on Lois's childhood pal from Bensonhurst?
Ned and Olivia (Lisa LoCicero) are cute, but there's no way a one-percenter is going to give up that much stock in his family dynasty for someone he's only watched a couple of Redbox videos with. Ned Ashton has long been presented as the Quartermaine gatekeeper — the reluctant heir who, despite his desire to be out rocking and rolling, makes sure ELQ is solvent and the Qs are sane and seemly. If they aren't, he takes great strides to cover their mishaps up.
Ned giving up his power base at the company to a sociopathic serial killer, all so Olivia can lie to her latest mobster baby daddy, doesn't ring true. Neither did that line about how Edward (the late John Ingle) would have done the same thing for Lila (the late Anna Lee). Lila was the love of Edward's life. Ned and Olivia have yet to heavy pet. 
I don't get where Prince Nikolas's (Tyler Christopher) head is these days. I'm talking about the one that sits on his shoulders.
This guy was once married into the Q family. Why is he doing this to the late Emily's loved ones?
Nikolas knows damn well his twisted grandmother procured those shares illegally. Besides, where is this sudden, all-consuming desire to wrest control of ELQ coming from? 
Forget about the company for a second. Dude is keeping the fact that Jason (Billy Miller) is alive from his cousin Sam (Kelly Monaco) and the rest of the people who love the brain-damaged mobster, all to what end? 
I defended this plot on the podcast a few months back. Luke Kerr  mentioned he didn't think Nik's motivation for going dark was being clearly drawn. I assumed the prince's reasoning would become clear shortly, if we just kept watching. 
So far, all we're getting is Nikolas opening his safe a lot and grimacing. That is, when he isn't banging Hayden (Rebecca Budig). Nikolas and Hayden are hot, but I can get steamy sex scenes on XTube.
Remember when Nikolas was so dead set against Liz (Rebecca Herbst) ending up with Ric (Rick Hearst)? Wouldn't seeing her get back together with his one-time nemesis prompt Nikolas to do whatever he could to prevent a LiRic reunion, like spilling about Jakeson?
As wacky as Helena's (Constance Towers) desire to control ELQ was, it made sense. She and her fellow evil-doers needed a front for their illicit activities. To fully invest in this tale of the newly-dark prince, I need a clearer understanding of his regal goals. A break-up with a Britch (Kelly Thiebaud) and a burned tween do not a corporate raider make.
As for Jake/Jason, it's falling seriously flat. Where is the jeopardy in watching Miller stand around sighing and looking bored, while Laura Wright and Budig scream and hiss over him?
Hey, the headline said this was going to be tough love. I want to get back to blogging about GH boasting six and sever-year highs in the Nielsens. 
Miller is one of my favorite actors currently working in soaps, but if he's gonna be on GH he should be driving story, not reacting to it. 
Sonny Corinthos (Maurice Benard)—one of the best characters daytime has ever created (and this soap's protagonist)—is on the sidelines of his own life. Romantically, he's with Carly (Wright) again, though the only thing that gets her panties wet these days is butting into "Jake's" life.  
Meanwhile, the Dimpled Don has turned over his empire (and cache) to Duke Lavery (Ian Buchanan), so that Duke and Julian Jerome (William deVry) can take off their silk gloves and slap one another across their faces on the docks. Tony Soprano would burst into hysterical giggles after overhearing these particular "goodfellas" argue over a tea box at a luxury hotel.
I do love me some Anna (Finola Hughes) and Sloan (Grayson McCouch). Sorry, not sorry.
Michael's (Chad Duell) rage at Sonny (Maurice Benard) and the rest of Clan Corinthos started off brilliantly. Lately, it's devolved into Three's Company, with Morgan (Bryan Craig) and a woefully-recast Kiki (Hayley Erin) slipping Michael date rape drugs to make him look like an unfit parent to Baby Avery — who has been kidnapped again. 
This is another story where the character who should be driving the arc is existing to react to plot-driven capers and hi-jinks. Learning Sonny killed AJ sent Michael off on a dark antihero's journey. Fans ate it up. After two decades of Sonny winning in battles against the Qs, the very child the mobster "stole" from the WASPs turned against him. It was Greek tragedy!
I looked forward to months and months of story centered on Michael going after everything Sonny holds dear. Seizing custody of the man's latest illegitimate child was a great opening salvo. Next up, Michael should have set his sights on breaking apart Sonny's business interests, brick-by-brick. Instead, young Clark Kent Quartermaine was caught in a Kryptonite net before he could achieve flight.
Duell and Craig should be going head-to-head in an all-out Cane vs. Abel-style mega war on this soap opera, complete with fire and ice (one sexy and volatile; one virginal and pure) young women caught in the middle. Come on, there has to be 20-something versions of Vanessa Marcil and Cari Shayne out there somewhere?
Michael Quartermaine should be using his new-found ELQ resources to dismantle the lives of the half brother and adoptive father who betrayed him. Morgan Corinthos should be going after the title of crown prince of the Corinthos family, mobbing up to take on his brother, much to Carly's dismay. They could be this generation's version of Jax (Ingo Rademacher) vs. Sonny with the added twist of being related.
As for Baby Avery's bad-ass, superbitch bombshell of a glitzy Hollywood dame mama, Ava Jerome (Maura West) is still in a hospital bed, with no makeup or chap-stick, being whispered at by a man who looks like a.) a vanquished vampire or b.) a legally-prohibited-from-being-mentioned-cop from Llanview, PA.
Nina Clay (Michelle Stafford) and Franco (Roger Howarth) are oddly becoming my favorite couple on GH. They're the only two people in town being written completely in character.  
Hell, who wouldn't blackmail people out of hotel suites and stock shares, if they're going to make it so ridiculously easy for you? Seriously, Liv, who goes to a psyche ward to blab about their baby's paternity to a mental patient?
I lost interest in swoon-worthy Maxie (Kirsten Storms) and Nathan (Ryan Paevey) the moment Spinelli (Bradford Anderson) returned to town. No, not because I want Spixie back together, because it's hard watching Maxie prove so indecisive and fickle five seconds after falling head-over-heels in love with Nathan. Spinelli was clearly Maxie's girlhood love. She's a woman now. Write her as such.
I find myself intrigued by Cousin Valerie (Brytni Sarpy), mostly because I would love for her to lick marinara sauce off Dante's (Dominic Zamprogna) sausage and meatballs, thus causing Lulu (Emme Rylan) to finally go full-on, radioactive Spencer woman.
I'm hopeful the upcoming Nurses' Ball and live episodes will re-galvanize GH creatively. The show has been going on such a high octane level since Cartini took over—Water Story, 50th anniversary, Return of the Nurses Ball, Returns of 80's and 90's Characters—and it has generally been an insanely-fun ride. I'm ready to start feeling that way about ole' Port Charles, New York again. See you next Ratings.