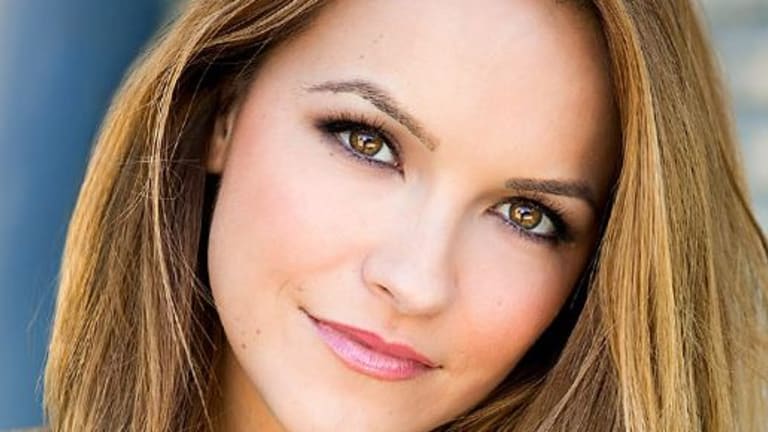 Chrishell Stause Dishes Mistresses, Daytime Emmys and How She Handles Her Boyfriend Making Out With Her BFF on The Young and the Restless (EXCLUSIVE)
Helen of Troy may have caused a thousand mythological ships to set sail in Ancient Greece, but it's Kentucky-born Chrishell Stause who has been launching heart beats into overdrive for 10 years in daytime. 
I caught up with the soap siren, who was busy getting ready to help SoapCentral.com's Dan Kroll and General Hospital's Haley Pullos do red carpet interviews this Sunday night at the 42nd Annual Daytime Emmys. In addition to chatting about the awards show, Stause dished her upcoming guest spot on ABC's Mistresses. 
Will she cross paths with real-life beau Justin Hartley, who recurs on the summer sudser? Speaking of Hartley, Stause shares how she handles his The Young and the Restless love scenes with her real-life best friend Melissa Claire Egan. 
Daytime Confidential: Congratulations on booking Mistresses! What can you dish about your Season 3 guest spot?
Chrishell Stause: Thank you so much! I will air in the fifth episode and get to work with the gorgeous Rochelle Aytes. My character is a bit of a hot yoga enthusiast, which is funny because in real life I tried it once and hated it!  
DC: Will your character cross paths with a certain hunk named Scott, played by your real-life boyfriend Justin Hartley? 
CS: Unfortunately I don't! That would have been great but he is wrapping up his Mistresses story because he has another show to get back to, as you know.  
DC: Adam, Hartley's character on The Young and the Restless, is involved with Chelsea, played by your BFF Melissa Claire Egan. Is it awkward to turn on CBS and see them making out in character? 
CS: There aren't two people I love more in this world. But I skip all his love scenes from all his shows, including this one! And it goes both ways, I prefer for him not to watch mine either.  
DC: With your bestie and your dude both in fictional Genoa City, Wisconsin, is there a chance we could see you turn up? Kay Chancellor's (the late Jeanne Cooper) beloved granddaughter Mac Browning and Paul Williams' (Doug Davidson) daughter Heather Stevens are both out there somewhere in the Soapyverse! 
CS: Well, there is always a chance in daytime! I have worked with both Judy Blye Wilson and Chuck Pratt over at All My Children, so if they ever need an on-screen troublemaker, they know who to call.  
DC: This Sunday night, you'll be on the red carpet with one of my ruthless rivals, Dan Kroll of SoapCentral.com, for the 42nd Annual Daytime Emmy Awards. Whatever you do, do not believe him if he promises to take you to some place called In-and-Out Burger! Are you excited for this year's show? 
CS: This year is very exciting since we are back on the air with Pop TV and with a great new venue. I think nabbing Chrissy Teigen and Tyra Banks was a great call. I think they will add a lot to the show this year. 
DC: How many years have you and General Hospital starlet Haley Pullos been serving as Vanna Whites to ole' Kroll's Pat Soap-jak? 
CS: You know what, I'm not actually sure! He will kill me, but maybe...three? Three would be my guess.  
DC: Kroll has been bragging nonstop about his Burberry tux. What will you be wearing on the big night? 
CS: I am so excited this year to be wearing Michael Costello! For those that don't know, he is a favorite Project Runway All Star and dresses everyone from Beyonce to Jennifer Lopez, both of whom are my style icons! 
DC: Do you and Haley compare notes, so not to show up all matchy-matchy? 
CS: [Laughs] No, we don't. I doubt that would ever happen considering my out of the box choices both last year and this. But if it ever did, I think we would just embrace it! 
DC: You left Days of Our Lives last fall, but your character, Jordan Ridgeway, only stopped airing last month. What are your thoughts on why Jordan didn't have a longer run in Salem? 
CS: Well to be honest, I believe she fell victim to her original story being scrapped and then not having a clear direction for her. It's unfortunate, but these things happen.  
DC: The unsavory plot twist that found Jordan revealing her stepfather had raped her had to be tough to play? How did you shake off all those ugly emotions after the director yelled "Cut!"?  
CS: They definitely were [hard to play]! I joked that those 20 mins took 20 years off my life. To be able to portray that from a real place it takes quite a bit of preparation, and I did need to go straight to my dressing room after so I could shake it off. But I wouldn't trade it for anything. I love getting heavy stuff to play. 
DC: When you started on soaps in 2005 (as Amanda Dillon on All My Children) there were nine daytime soaps on the air. Ten years later in 2015, there are four. As an actor, what do you think could be done to help revitalize the genre?   
CS: I think it begins and ends at compelling storytelling. If they can pull that off, then more people will watch, which means higher ratings, which turns into more money to produce a quality show. I think we have seen quite a few ratings spikes over the last few months, so I am hoping they are well on their way! 
DC: Your look screams "Bombshell", but you are also a serious comedienne. You were even a member of The Groundlings. When you look at shows like The Mindy Project or Unbreakable Kimmy Schmidt, do you ever say, "Hey, I wanna do that!"? 
CS: Yes I do! In fact, I have been working on a top secret project that would incorporate all these things. I've already filmed the pilot, so now it's just down to shopping it around. But it is something that I believe the soap audience would love and I can hardly believe someone hasn't done it already. So I'm working on it! 
Main image courtesy of Chrishell Stause's Official Website