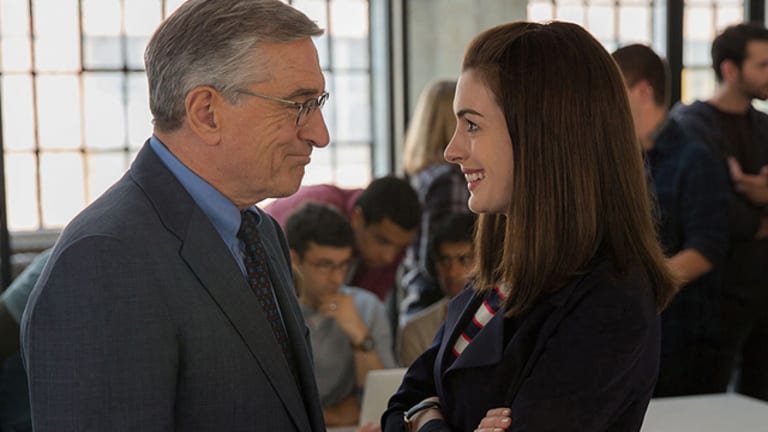 5 Nancy Meyers Movies That Would Make Great TV Soap Operas
Rom-Com Queen Nancy Meyers knows a thing or two about what women want to see at the movies. The writer-director recently returned to the big screen with The Intern, a glossy romp about a widower (Robert DeNiro) who decides to apprentice at a hot start-up owned by Anne Hathaway. 
This chick flick, along with several of Meyers' other hits, would work great on the small screen. Let's take a look at five Nancy Meyers films that would make excellent TV soap adaptations!
1.) The Intern
 In The Intern, Jules Ostin (Hathaway) runs an e-commerce fashion start-up she began in her kitchen. About The Fit is now thriving with 250 employees. Seventy-something Ben Whitaker (DeNiro) was once a top executive. Like many older Americans, he finds himself starting over in his later years. Ben applies for the company's senior intern program — which was supposed to be geared toward high school seniors!
After getting off to a predictably rocky star, Ben and Jules form a father/daughter bond. They also contend with various romantic entanglements. Ben is intrigued by an oversexed company massage therapist (Do tech start-ups really have those?) played by Rene Russo. Jules considers giving up control of her rapidly-growing business to save her crumbling marriage.
A weekly TV dramedy version of The Intern could be a fun, character-driven, multi-generational hit. The soap practically casts and writes itself. Imagine General Hospital and Two and a Half Men alum Amber Tamblyn in Hathaway's role. The West Wing's Martin Sheen would be great as the TV version of Ben. Ageless vamp Sela Ward could take over for Russo as Fiona and All My Children grad Colin Egglesfield would round out the leading roles as Matt, Jules' philandering husband.    
2.) Private Benjamin
A short-lived TV sitcom version of this 1980 smash hit for Meyers and Goldie Hawn ran from 1981-83 on CBS. I think a 2016 soap opera take would be much more fun.
Think about all the sudsy plotlines in the original movie. Plucky heroine Judy Benjamin (Hawn) enlists in the Army after her husband dies during sex! She manages to survive boot camp (A recruiter told her it would be a breeze) and falls hard for a dashing foreign doctor (Armand Assante). He then turns out to be a communist and a cheater! Heck, the movie even ends with the ultimate soap trope — a botched wedding. 
Ex-General Hospital star Julie Marie Berman would be both fierce and adorable in Hawn's old Army fatigues. Tap swarthy heartthrob Gilles Marini as the dashing-if-deceptive Dr. Henri Tremont. Geena Davis could play the role of no-nonsense Captain Lewis (played by Eileen Brennan on the big screen and in the sitcom). Charles S. Dutton could take over for Hal Williams as Sergeant Ross. 
A modern day Private Benjamin could explore what it's like to be a female soldier today. The U.S. Army recently opened its elite Ranger School to women.  What if Judy aspired to be a ranger instead of a paratrooper for this version? Much the same way ABC's new hit Quantico is centered on a female FBI trainee, the modern day Private Benjamin would be more of a soapy thriller than a rom-com.
3.) What Women Want
You don't need to be able to read minds to know a weekly TV soap opera based on What Women Want would generate buzz. The 2000 Meyers flick starring Mel Gibson and Helen Hunt is one of the most beloved (and profitable) romantic comedies of all time!
A pre-career meltdown Gibson plays Nick Marshall, a divorced marketing whiz at an ad agency and quite the cad. After electrocuting himself while doing product tests, Nick is blessed with the ability to read the minds of every woman he comes in contact with. 
He uses his new found clairvoyance to successfully one-up rival ad exec Darcy McGuire (Helen Hunt), to hook up with neurotic women (Marisa Tomei) and to try to figure out what's going on with his angry teenage daughter (Ashley Johnson). By the movie's end, Nick has realized the error of his ways, fallen hard for Darcy and come to understand women a lot better.
What Women Want: The TV Series would be the perfect Grey's Anatomy follow-up for Patrick Dempsey. If a rival network really wants to make ABC lose their shiznit, cast fellow Grey's ex-pat Katherine Heigl in the Hunt role. 
Just think of it for a second, a TV version of What Women Want—starring the ex-McDreamy and defrocked Izzy—anchoring NBC's answer to Shondaland's Thursday night lineup. Talk about hashtag worthy!
4.) Something's Gotta Give
 Oh come on. Meyers didn't even try to hide her obvious love for daytime soap operas in this incestuous 2003 farce! 
Jack Nicholson and Diane Keaton star as music mogul Harry Sanborn and playwright Erica Barry, a star-crossed couple of a certain age. The only problem is, Harry is dating her 20-something daughter (Amanda Peet) when he meets Erica! 
After Harry has a heart attack while fooling around with Marin (Peet), he is rushed to the hospital where he's treated by hunky Dr. Julian Mercer (Keanu Reeves). Julian falls hard for Erica further complicating matters. Meanwhile, Harry and Erica find love while he recovers at her Hampton's summer home.
Another romantic subplot finds Marin's dad (Paul Michael Glaser) getting married to a woman close to her age (KaDee Strickland). Is it any wonder Erica bases her next hit play on all of these bed hoppers before ultimately finally finding happiness with Harry?
For the TV version, I'd cast Dennis Quaid and Michelle Pfeiffer in the roles Nicholson and Keaton played on the big screen. Former Days of Our Lives star Rachel Melvin would be Peet's TV stand-in, with ex-All My Children star Justin Bruening desperate to show Pfeiffer's Erica his bedside manner as lovesick Julian.
5.) I Love Trouble
I bet you thought I was gonna go with It's Complicated in this slot? Nah. While I enjoyed that Meryl Streep and Alec Baldwin vehicle, I find it too similar to Something's Gotta Give. 
I Love Trouble, Meyers' 1994 rom-com about dueling newspaper reporters, would make a much more unique primetime sudser. Four years after Pretty Woman, Julia Roberts stars as Sabrina Peterson, a gutsy-yet-green Chicago reporter who teams with her journalistic rival (Nick Nolte) to investigate a train wreck and conspiracy involving genetically-enhanced milk. Okay, so it was no Erin Brockovich. I really want to see a sexy soap about reporters on TV, dagnabbit! 
One Tree Hill's Bethany Joy Lenz was born to inhabit one of Roberts' film roles on the small screen. Simon Baker is already adept at playing characters who spar and spoon, thanks to his long-running stint on The Mentalist. He'd be a smart choice for Nolte's jaded Peter Brackett.
To give I Love Trouble: The TV Series a fresh spin, have Sabrina be an intrepid blogger for a BuzzFeed style site, while Peter is the last of the decidedly old school newspaper men. In the same way ABC's Scandal blends procedural and soapy elements, I Love Trouble could have multi-episode umbrella stories (Sabrina and Peter investigate a sleazy hedge fund manager who hikes up the price on an HIV drug! Sabrina and Peter go after whoever is leaking faked Planned Parenthood videos!), as well as cases of the week.