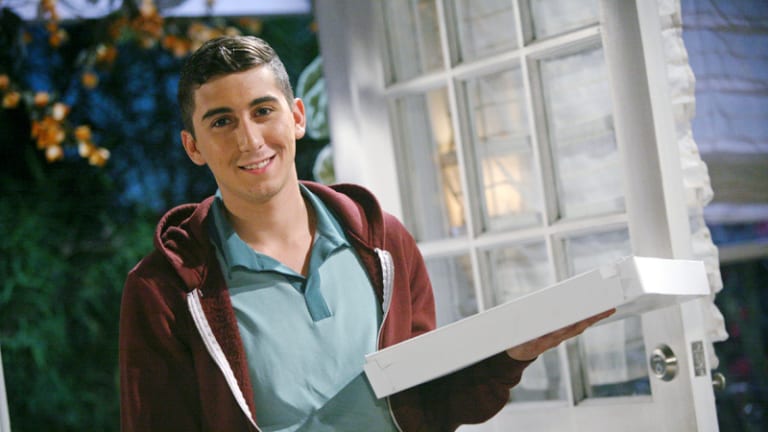 Publish date:
Big Brother 17's Jason Roy and Bold & Beautiful Producer Casey Kasprzyk Talk Latest BB/B&B Crossover (EXCLUSIVE)
Did someone order a pizza with an extra helping of sass? Big Brother Season 17 scene stealer Jason Roy will be appearing on CBS Daytime's The Bold and the Beautiful on Oct. 12.  
The big talking former member of BB17's "High Rollers" alliance will be sharing scenes with Ashleigh Brewer (Ivy) and Darin Brooks (Wyatt). I caught up with Roy via email to get the scoop on his cameo. I also found out from Bold's Supervising Producer Casey Kasprzyk how this latest synergistic collaboration between two CBS shows with the initiations "BB" came about.
Daytime Confidential: First you appeared on Season 17 of Big Brother; now you're guest-starring on the world's most-watched soap opera. Nice work for a self-confessed "Superfan", right?
Jason Roy:  It was surprising and shocking to even get on the show that I'm a superfan of, let alone on the biggest soap opera in the entire world!
DC: What can you tell us about your Bold character? I know you'll be sharing scenes with Ashleigh Brewer and Darin Brooks, who play scheming lovers Ivy Forrester and Wyatt Spencer.
JR: My character is a curious pizza boy who delivers pizza to the Spencer beach house. He gets the shock of his life when Ivy and Wyatt answer the door.
DC: Did all the conniving and machinations on Big Brother prepare you for the fictional power plays pulled by the Forrester and Spencer dynasties on The Bold and the Beautiful?
JR: They are both very much cut from the same cloth. Many of schemes on BB are pretty much like the schemes that are pulled on B&B.
DC: On Big Brother, you were part of the "High Rollers" alliance. If you had to pick between Bold's Forrester, Logan and Spencer clans who would you align yourself with?
JR: In the BB house, I aligned with some of the most random people. I would probably just fall into a group organically. Most likely with Steffy Forrester (Jacqueline MacInnes Wood) because she's such a bad ass!
DC:  Who'd have the better chance of going all the way on Big Brother, Ashleigh or Darin?
JR: I would say probably Ashleigh. I think that everyone would just look at her like she was so sweet and not think she was really a big gamer.
DC: Do you ever have moments where you think: "Before this I was sacking groceries" and have to pinch yourself?
JR: Yes! All the time! Especially at the finale of BB and while taping B&B. I'm still waiting to wake up!
DC: Now that you've flexed you acting muscles on Bold, what's next for Jason Roy?
JR: I still do not know. I'm just going to roll with the punches and see what happens. Hopefully I won't be bagging groceries anymore.
DC: Casey, so this is what you've been teasing on Twitter! I wanna know how you guys at Bold are able to keep pulling off so many secrets, especially with bloggers like me out there hunting for scoop?
Casey Kasprzyk: Most of the time we just have to hope for the best. With so many social media outlets to leak story, we just never know what might happen. We're very lucky to have a crack PR team that works tirelessly to keep a lock on storyline secrets. But it's also a fine line when promoting B&B. Do you let the viewers know what's going to happen so they can tune in, or do you keep it a secret so there's more shock value? Most of the time we like for viewers to learn about something on-air.
DC: The Bold and the Beautiful is good at more than just secret-keeping. In an age where budget cuts have many daytime soap sets being scaled back and casts being dramatically trimmed, B&B is as lush, forward-thinking and provocative as it's ever been. How does the team make that happen?
CK: In regards to productions insights, I have to refer you back to the earlier question about how well B&B is at keeping secrets. Honestly, Brad Bell has gotten very good at making B&B a lean show without skimping on the things that keeps it visually exciting to watch. We may not do as many fashion shows as in the past, but we supplement them with smaller Forrester Creations photo shoots, so that the audience can still get their fashion fix. We also take advantage of the show's huge international following. When Jacob Young (Rick) and Karla Mosley (Maya) were in Denmark over the summer doing press for the show, Brad creatively took advantage of the situation by writing in a montage featuring Rick and Maya's Copenhagen Honeymoon. 
DC: The Bold and the Beautiful and Big Brother have done a lot of fun crossovers. Did you have that in mind when casting this role?
Casey Kasprzyk: It's become a fun tradition every year to have Big Brother Houseguests on The Bold and the Beautiful. It started with fan favorites Jeff Schroeder and Jordan Lloyd and has continued as sort of an "unofficial Big Brother consolation prize." Jason Roy unfortunately got evicted early from the house this past season. He was such a fan favorite that we grabbed him for a guest spot as soon as we could. He plays a pizza boy, and let's just say Jason really delivers.
DC: Any chance we'll ever see one of the Bold actors in the Big Brother house?
CK: A B&B Edition of Big Brother would be incredible! Scott Clifton (Liam) has become a huge fan of the reality show and I know he'd love to do it. You can actually see a great video on CBS.com of Lawrence Saint-Victor (Carter) and Linsey Godfrey (Caroline) from earlier this summer participating in a special media day version of Big Brother. The two of them were hilarious in the house. If you haven't watched it, check it out. One spoiler alert, Lawrence ends up in a bumblebee costume!
DC: You're B&B's supervising producer. How long have you been with the show, what has been your trajectory and what's the most important thing you've learned from showrunner Brad Bell?
CK:  It's hard to believe it's been 12 years, but not a day goes by that I don't love what I do. I started working for B&B as a production intern while in college. After several years as a production coordinator and booth PA, I was promoted to associate producer. In that role, I worked with Brad to update the look and feel of the show. This included transitioning to high definition, developing new opening titles and adding more location shoots. I'm most proud of coordinating all our remotes since 2008. Having the opportunity to produce location shoots in Dubai, Paris and Amsterdam, all in one year, is something I'll never forget.
DC: Is Bold planning any other big events this fall? Come on, you can tell Daytime Confidential. We won't blab a word!
CK: Very clever. I could tell you, but you'd have to get past B&B's PR Team first!