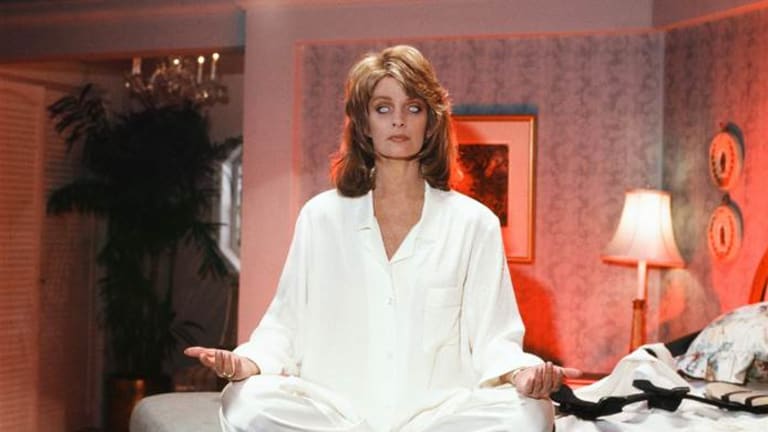 Publish date:
DAYS' Deidre Hall Recalls Marlena Being Possessed By The Devil (VIDEO)
What exactly did Deidre Hall say when she first learned Dr. Marlena Evans would be possessed by the devil on Days of Our Lives? 
"Okay fine, just do it in good taste," Hall recalled quipping about the 1995 plot twist during an appearance on KTLA Morning News.  Hall and fellow soap queen Lauren Koslow (Kate) were on the program to discuss Days of Our Lives 50 Years, the new coffee table book by executive producer Greg Meng. 
Days of Our Lives shot up in the Nielsen ratings on the strength of the late James E. Reilly's outrageous devil possession storyline. The soap was also chock full of larger-than-life love triangles and quadrangles for characters like Marlena, John (Drake Hogestyn) and Kristen (Eileen Davidson); Kate, Victor (John Aniston) and Vivian (Louise Sorel); Sami (Alison Sweeney), Austin (Patrick Muldoon, Austin Peck), Carrie (Christie Clark) and Lucas (Bryan Dattilo); Bo (Peter Reckell, Robert Kelker Kelly), Hope (Kristian Alfonso) and Billie (Lisa Rinna, Krista Allen). At the same time, the rest of the industry was panicking over the OJ Simpson trial, which was causing significant viewer erosion for all of daytime.
DAYS finished the 1994-95 season at No. 6 among among 10 soaps. By 1995-96, the soap had secured the No. 2 slot where it remained until 1997-98. Ah, the good old DAYS!
Check out Hall and Koslow on KTLA below.